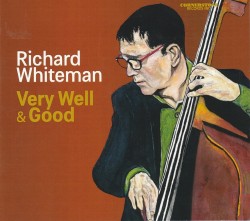 Very Well & Good
Richard Whiteman
Cornerstone Records CRST CD 153 (cornerstonerecordsinc.com)
Listen
Very Well and Good
Selohssa
Right Here, Right Now, with You
Read the Review
Multi-instrumentalist Richard Whiteman is one of the most in-demand and respected jazz pianists and educators in Toronto. In 2004, he began studying the double bass and quickly became an adept and experienced performer on this instrument. In 2012 he formed his "bass" quartet featuring guitarist Reg Schwager, pianist Amanda Tosoff and drummer Morgan Childs – the group that forms the backbone for this new recording. The quartet is augmented on several tracks by Canadian tenor saxophone giants, Pat LaBarbera and Mike Murley.
The set kicks off with the catchy Whiteman-penned title track, based on the chord progression of the standard, Fine and Dandy. The lyrical Not So Early pays tribute to the late jazz pianist Bill Evans, a musical reply of sorts to his famous composition, Very Early. This song features thoughtful and inventive solos from Whiteman, Tosoff and Schwager.
Pat and Mike pays tribute to LaBarbera and Murley, who both get a chance to ably stretch out in solos and trading on this minor blues. They are clearly enjoying playing with each other! Selohssa is a change of pace, an even-eighth, 32-bar form that features a strong and personal statement from Schwager.
Tosoff deserves special mention for turning in one sparkling solo after another. Childs also stands out for his propulsive swing, musical sensitivity and crisp cymbal work. All told, one of the finest acoustic jazz recordings of the past year.