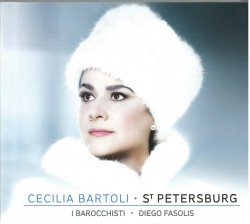 St. Petersburg
Cecilia Bartoli; I Barocchisti; Diego Fasolis
Decca 478 6767

Review
With celebrity comes responsibility, at least it should in the arts. That is why many celebrated soloists, once having established themselves with the standard repertoire, seek new or forgotten gems to create their legacy. After all, Maria Callas opened our ears anew to the music of Cherubini and Bellini.
Cecilia Bartoli, a mezzo, whose impact on the musical scene was in my opinion at times overestimated, has researched and recorded a fascinating disc of largely forgotten music. In stark contrast to 2014, Russians of the 1700s desperately tried to emulate and get closer to Western Europe. Peter the Great, he of St. Petersburg and the infamous "beard tax," started a cultural trend that continued until the outbreak of the Bolshevik Revolution. A large part of this Europeanization of Russia was a musical development, encouraged and supervised by three Tsaritsas – Anna, Elizabeth and Catherine the Great. The course chosen by those powerful women was to import Italian opera wholesale, including Italian composers and Italian musical sensibilities. Famously, Porpora refused to be seduced by the "Third Rome" (as the Tsars referred to their capitol, suggesting that they had continued with the Byzantine tradition). This opened the way for lesser talents such as Francesco Domenico Araia and Vinzenco Manfredini. Alas, even Cimarosa contributed to this "Russian renaissance," which came to an abrupt halt when Catherine the Great turned her attention to the stage plays of Voltaire and Diderot.
Found in the archives of the Mariinsky Theatre, the works recorded here are restored to life in a lavishly illustrated edition, played with great sensitivity by I Barocchisti. Kudos to Bartoli for this find, although the arias themselves at times tax her stubbornly small mezzo.