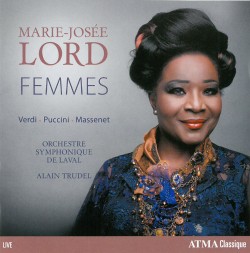 Femmes (Verdi; Puccini; Massenet)
Marie-Josée Lord; Orchestre symphonique de Laval; Alain Trudel
ATMA ACD2 2758 (atmaclassique.com)
Canada is a frustratingly large place. Despite having sung professionally since the early 2000s, Marie-Josée Lord did not conquer the country until 2012, when her first recording (from 2010) was nominated for the JUNO award in the best classical vocal album category. Personal disclosure here: I was one of the judges, voting, albeit unsuccessfully, for that album. To say that Lord's voice stunned me would be an understatement. She has proved to be an elusive singer – appearing mostly in Quebec, and not gracing operatic stages frequently enough. In addition, Lord holds a deep conviction that she must be a popular singer – in her concerts and on record – mixing Quebec chanson, spirituals and classical pieces. That is why her new album is such a rare gift: a full CD of operatic performance. And what a performance it is! As her voice matures, she relies more on vibrato. What may have been lost in agility is more than compensated for in power and range. She can easily become one of Verdi's heroines – I would give my proverbial eye tooth to see her on stage as Violetta! The music of Massenet and Puccini, especially as gracefully presented here by Maestro Trudel, suits her well too.
Her self-titled debut CD became a bestseller – over 30,000 copies sold, which in the world of classical music is massive. This one has a potential of beating that record – and bringing an extraordinary performer to full triumph over the Great White North.