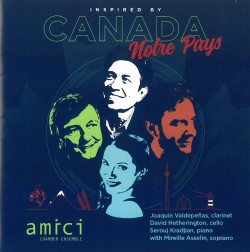 Inspired by Canada - Notre Pays
Mireille Asselin; Amici Chamber Ensemble
Marquis Classics MAR 81485 (amiciensemble.com)
Whenever popular or folk songs are recorded in a classical arrangement and for classically trained voices, the dreaded word "crossover" raises its ugly head. But let us remember that Cantaloube orchestrated the folk songs of the Auvergne and Carmina Burana was nothing but an elaborate fake (Orff initially claimed inspiration from medieval music scores): today, both are great examples of much-beloved music from the concert stage. So it really boils down to how the song selections and arrangements are realized.
Here, Serouj Kradjian's arrangements and the playing by his colleagues in the Amici Ensemble (clarinetist Joaquin Valdepeñas and cellist David Hetherington) are first rate. So is the voice of and interpretation by Mireille Asselin – she truly gets the spirit of French-Canadian music, which dominates on this disc. The song selection, however, may trigger some arguments. There are many other songs in the oeuvre of Leonard Cohen beyond the vastly overexposed and horribly abused Hallelujah, that would have been a better fit. Similarly, I cannot help but wonder, if River would not have been a better choice from the vast Joni Mitchell catalogue than A Case of You. The true standouts musically are La Vieux Piano by Claude Léveillée, a Canadian composer of some of Edith Piaf's songs, and the Huron Carol (another controversial appropriation). These two pieces truly assert the rights of folk and popular songs to be given the "full treatment" and to safely dispense with the crossover label.