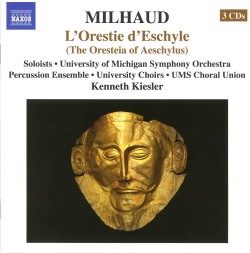 Milhaud – L'Orestie d'Eschyle
Soloists; University of Michigan Symphony Orchestra, Chorus and Percussion Ensemble; Kenneth Kiesler
Naxos 8.660349-51

Review
Aeschylus' Orestia trilogy was transformed by Paul Claudel and Darius Milhaud into two plays with music and one opera. For L'Agamemnon (1913), Milhaud created one notable imitative chorus with dramatic interpolations by Clytemnestra, who had just murdered her husband. From her entering high B onward, soprano Lori Phillips sings Clytemnestra splendidly. Modal harmony over long pedal notes, repetitive elements and insistent rhythm become an early manifestation of minimalism.
In Les Choéphores (1915-16) Orestes returns to avenge his father Agamemnon's death. Milhaud's choral magic continues in the funeral chorus underpinned by his characteristic orchestral parallel chords in different keys, and in the weeping Libation chorus "Go away my tears, drop by drop." Dan Kempson's baritone is lustrous in his compelling portrayal of Orestes. As the slave women's leader Sophie Delphis is thrilling in her rhythmically spoken solo (spoken word poetry is not new!), amply propelled with no less than 15 percussionists in the "kitchen."
Completing the trilogy is the three-act opera Les Euménides (1917-23) where Orestes is on trial. Presiding goddess Athena emerges as complex, awe-inspiring and three-voiced! Her hair-raising trios sung magnificently by Brenda Rae, Tamara Mumford and Jennifer Lane contain some of Milhaud's most adventurous vocal writing. Throughout, the Michigan choirs and orchestra set a professional standard in this tremendous project initiated by Milhaud-taught composer William Bolcom. There's much more to say, about the choruses and orchestra, about Milhaud's Brazilian influences … a disc recommended for the intrigued.