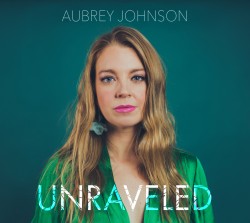 Unraveled
Aubrey Johnson
Outside In Music OiM 2002 (aubreyjohnsonmusic.com)
Wisconsin-born, New York-based vocalist Aubrey Johnson makes her solo debut with Unraveled, a ten-song collection that is an equal testament to her formidable skills and artistry as a bandleader, composer, arranger, storyteller and world-class singer. Just ten years into her professional music career, Johnson has garnered multiple awards and has worked with an array of stellar musicians including Lyle Mays, Bobby McFerrin and Fred Hersch. It is her singular, captivating vision that is on display here though, in the company of her phenomenal working group: pianist Chris Ziemba, bassist Matt Aronoff, drummer Jeremy Noller, along with Michael Sachs on alto sax and bass clarinet. Violinist Tomoko Omura and accordionist Vitor Gonçalves also contribute beautifully to several songs.
The title track, an outstanding Johnson original with heartfelt, thought-provoking lyrics, is a bold statement about facing and overcoming depression. There is also a refreshing take on The Peacocks (lyrics by Norma Winstone), and the inclusion of Jobim's Dindi is pure pleasure, with lovely accordion/voice unison passages. Egberto Gismonti's Karate is a fitting upbeat closer, featuring stunning piano, vocal and accordion solos, along with playful ensemble interplay, all imbued with a positive energy and inherent lyricism. Special mention also goes to Omura for her magnificent piece, Voice Is Magic, and to Steve Rodby for his sparkling production work.
There is so much to recommend here. One could not ask for a better debut.