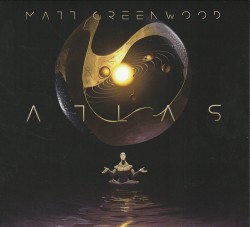 Atlas
Matt Greenwood
Independent (matt-greenwood.com)
Unencumbered listening seems to have gotten trickier in recent years, despite the myriad new methods available to access music. As an antidote to this phenomenon, I now make a point to absorb albums in their entirety at least once or twice before reading any liner notes or one sheets.
With Atlas by Zimbabwe-born Toronto-based guitarist Matt Greenwood, all written material pertaining to it felt more like an affirmation than a barrage of new info. This is not because Greenwood wears his influences on his sleeve, or that any of his music falls short of unique, but more that it profoundly resonates with this writer's musical tastes. Contemporary guitar in the 2020s can resemble anything from futuristic effects and textures to a neo-traditional renaissance of aesthetics from the 1950s and 60s. I can appreciate either of these extremes, which are far from mutually exclusive, but it is refreshing to hear a modern mélange of influences from across the board in Greenwood's playing and writing.
Atlas' opening and closing tracks Constellations and Commitment are tasteful vignettes that bookend the album, adding a sense of continuity when listening from start to finish. While the recording has the arching flow of a great concept album, each of its original tracks function on their own too. Dehyah and the album's title track are cerebral yet heartfelt, and ballads like From Sunshine and Campfire Ghosts are unique enough to remain neighbours on the tracklist without sounding redundant.
This album is an awesome offering of art for art's sake, eschewing causes and homages in favour of focused, sophisticated, contemporary playing. Have a listen; I trust you will find Atlas as refreshing as I do.