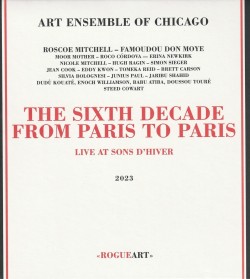 The Sixth Decade from Paris to Paris
The Art Ensemble of Chicago
RogueArt ROG-0123 (roguart.com)
After almost a decade of evolution in their hometown, The Art Ensemble of Chicago arrived in Paris in 1969, their combination of free jazz and theatricality (their slogan – Great Black Music: Ancient to the Future) was greeted as the embodiment of the incendiary protests that had rocked the city in the previous year. The band was welcomed with frequent performances and multiple recording offers. Five decades later most of the original members – saxophonist Joseph Jarman, trumpeter Lester Bowie and bassist Malachi Favors – are deceased. Only multi-instrumentalist Roscoe Mitchell and percussionist Famoudou Don Moye remain. They've chosen to reinvigorate the band's legacy by expanding it with a substantial number of young musicians and an even broader musical lexicon, entering their sixth decade with a 20-member ensemble for this 100-minute Paris concert from 2020.
It's alive with potent moments, including brilliant individual instrumental performances from Mitchell and Moye, trumpeter Hugh Ragin, flutist Nicole Mitchell, cellist Tomeka Reid and trombonist Simon Sieger. True to the band's history, however, it continues to press the envelope – musically, lyrically and culturally. The ensemble includes chamber musicians who can execute Mitchell's Webern-esque scores; a mixed improvising ensemble that suggests Tibetan ritual music; and three percussionists and three bassists who can launch a polyrhythmic maelstrom. There is also a self-explanatory track called Funky AECO. There are concert vocalists and the spoken word calls to consciousness of Moor Mother, activist-orator with such groups as Sons of Kemet and Irreversible Entanglements.
Mitchell and Moye have made of their longstanding collaboration a gift to contemporaneity and the possibilities of the future. It's as much about that promise as it is a platform for two celebrated senior warriors of music.