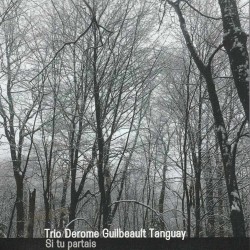 Si tu partais
Trio Derome Guilbeault Tanguay
ambiences magnetiques AM 272 CD (actuellecd.com)
Saxophonist/flutist/vocalist Jean Derome, bassist Normand Guilbeault and drummer Pierre Tanguay have been playing together as a trio for over 20 years, embracing a broad repertoire and becoming an essential component of Canadian jazz in the process. Here they play 11 compositions, handily supplying dates to mark the range from 1917 (The Original Dixieland Jazz Band's Tiger Rag) to 1963 (Eric Dolphy's Iron Man). Throughout, the trio is polished and intense, engaging, yet fully engaged.
On the first track, Ornette Coleman's The Disguise, Derome manages to be at least as buoyantly joyous as Coleman himself might have been, while Guilbeault and Tanguay provide ideal support, balancing intensity and lilt. Love Me or Leave Me, a standard, is fused with Lennie Tristano's variant, the boppish Leave Me. On Sy Oliver's 'Taint What You Do, Derome's vocal, rich in comic inflection, frames a virtuosic duet of bass and drums. While Derome is not a great singer in any conventional sense, there's a special combination of musicality and wit at work here that illuminates the performance of Duke Ellington's Mood Indigo, achieving a consummate elegance in the contrast between the rough-hewn vocal and the refined invention of the instrumentalists.
An anthology of recordings from Jelly Roll Morton to Anthony Braxton can serve as an excellent introduction to jazz, but this might serve as well: Trio Derome Guilbeault Tanguay fully share the abundant joy that they take in adding their own spontaneous dimensions to this far-flung repertoire.