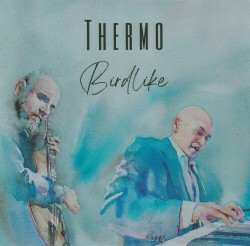 BirdLike
Thermo
GB Records (thermomusic.com)
Listen
Avila & Tequila (Hank Mobley, Copyright © EMI Unart Catalog Inc.)
Betty's Buns (Mike Manny, Copyright © Mike Manny Music)
This Is For Albert (Wayne Shorter, Copyright © Kobalt Music Pub America I o/b/o Miyako Mus)
Read the Review
This exquisite jazz recording is the result of the creative pairing of pianist/composer Mike Manny and guitarist/composer Nathan Hiltz. Their duo, Thermo, manifested during the pandemic by playing/performing "together" in separate places, through the use of low-latency recording technology. Both gentlemen wear producer's hats here, and not only have they assembled a dazzling program of tunes, but they have also created the ultimate jazz quartet with the addition of bassist Neil Swainson and drummer Morgan Childs. In addition to two of their individual compositions, Manny and Hiltz have also served up a sumptuous jazz buffet, featuring works from icons Hank Mobley, Freddie Hubbard, Johnny Mercer, Hoagy Carmichael, Cedar Walton, Wayne Shorter and Horace Silver.
Things kick off with Avita and Tequila by Mobley. Manny and Hiltz dig in here with a solid bop sensibility, and their unison lines morph into the full, satisfying quartet sound. Swainson and Childs lock in immediately and propel the action, with elegant solos from all. Next up is Betty's Buns – a groovy, swinging original by Manny dedicated to the Cape Breton piano player and baker of delicious buns, Betty Lou Beaton. Big fat chords and a cooking melodic line define this delightful tune featuring an effortless solo by Swainson. Of special beauty is Carmichael and Mercer's Skylark. One of the loveliest ballads ever written is performed here with sensitivity, skill and deep emotion. Manny seemingly channels the great Bill Evans without ever being derivative.
Hiltz's composition, Fountain Scenery, is a guitar feature and a bit of a nod to Richard Rodgers' Mountain Greenery. His sound here is warm, succinct and utterly pure, reminiscent of Jim Hall. Although every track on this project is a shining bebop bauble, other highlights include Wayne Shorter's This is for Albert, where Manny and Hiltz soar through the arrangement in synchronous motion and the listener gets dipped into some serious jazz juice! A triumph!