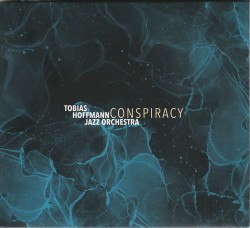 Conspiracy
Tobias Hoffmann Jazz Orchestra
Mons Records MR874757 (tobiashoffmannmusic.com)
Tobias Hoffmann's 2019 recording was the celebrated Retrospective, featuring repertoire for nine musicians. The almost nonchalant manner in which he declared that he couldn't express his new music unless he had his "…own band to make sure that my music was performed on the highest possible level" belies the enormous undertaking of leading an ensemble as large as this expanded Jazz Orchestra.
Hoffmann calls the disc Conspiracy, which is a title filled with both whimsy and the very real suggestion that the artist – by nature a (cultural) guerrilla – engages in conspiracy to manoeuvre his way into his listeners' sensibilities. Using a language that is informed as much by classical symphonic idioms, devices and gestures, and the enormously popular, contemporary jazzy vernacular, Hoffmann has created a recording which fuses the styles with a naturalness and authenticity that eludes many ensembles of this size and scope.
Moreover, Hoffmann's recording is not only conspiratorial, but also compelling. In particular, the extended narratives – Conspiracy, Trailblazers, Importer Syndrome and Awakening – are tone poems rich in imagery. In each of these works – as in the rest of the repertoire – we come face-to-face with performers who have interiorized Hoffmann's singular mind and the poetics of his work, and go on to interpret it with idiomatic power and all the attendant drama, throughout the length of the disc.