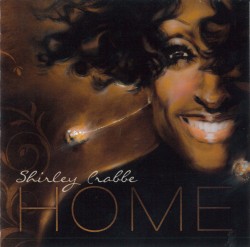 Home
Shirley Crabbe
www.shirleycrabbe.com
New York City jazz vocalist Shirley Crabbe's initial CD offering is a tasty collection of tunes associated with Broadway and elsewhere. The well-produced and conceived recording features saxophone legend Houston Person as well as Shirley's pitch-perfect vocal instrument and a quintessential New York City rhythm section of Jon Burr on bass, Alvester Garnett on drums and Jim West and Donald Vega on piano.
Ms. Crabbe fortuitously returned to singing following major surgery on her vocal cords and has rendered each carefully chosen track with emotion, skill, theatrical flair and a complete reverence for the melody (something to be kept in mind by emerging jazz singers). A protégée of the late, great Etta Jones, Ms. Crabbe shows us a depth of meaning that can only be realized through life experience and devotion to your art. The moving title track from the hit musical The Wiz is a standout, as is Not While I'm Around, Sondheim's harmonically complex ballad from Sweeny Todd, featuring an inspired trumpet solo from Brandon Lee. Oscar Brown Jr.'s Strongman is another highlight, replete with an elegant and bluesy solo from special guest (and long-time Etta Jones collaborator) Houston Person. On Leonard Bernstein's Lucky to Be Me – another gem - Crabbe channels the incomparable Irene Kral and on Herb Ellis' rarely performed Detour Ahead, the whole company swings sumptuously with a lilting, uptempo horn-infused arrangement from Matt Haviland.
A brilliant debut, this recording should be required listening for any jazz vocalist.