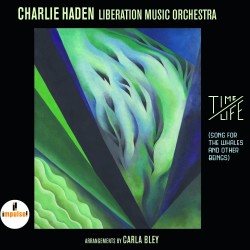 Time/Life
Charlie Haden Liberation Music Orchestra
Impulse 4798480
Review
The great bassist Charlie Haden (1937-2014) launched his recording career as a leader in 1969 with the Liberation Music Orchestra, a big band devoted to political protest, its repertoire of international folk songs and contemporary compositions all orchestrated by Carla Bley and featuring stellar associates like Don Cherry and Gato Barbieri. Haden and Bley returned to the project intermittently and were in the midst of this environment-focused work when Haden became too ill to continue in 2012. On Time/Life, two pieces recorded with Haden in Norway in 2011 bracket three from 2015, with Steve Swallow playing bass in Haden's stead in the same 12-piece band, with trombonist Curtis Fowlkes and saxophonists Tony Malaby and Loren Stillman among the soloists.
The music possesses the same quality that Haden and Bley first developed nearly 50 years ago, a combination of anthemic determination, pastoral reflection and moments of intense, wailing expressionism. The environmental focus arises in new arrangements of older compositions, opening with a serenely beautiful treatment of Miles Davis' and Bill Evans' Blue in Green. Bley's Silent Spring, inspired by Rachel Carson, dates from the 60s; her Útviklingssang, written to protest the impact of Norwegian dams, from the 70s. Only the warm, welling, richly-voiced Time/Life, her elegy for Haden, is recent.
The final track is Haden's Song for the Whales, first composed in 1978 and recorded by the group Old and New Dreams. The work inscribes an arc, bracketed by Haden's wispy arco passages emulating whale song. Its plaintive theme serves as a springboard to Tony Malaby's admirably constructed solo, moving from lyric reflection to sounds that suggest the whale voices to be found in the reaches of his tenor saxophone solo.