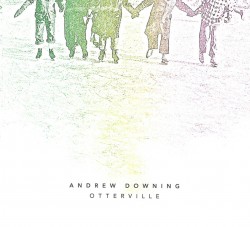 Otterville
Andrew Downing
Independent AD00105
(andrewdowning.com)
JUNO Award-winning bassist, cellist and composer Andrew Downing's new double CD (and his tenth release) takes its name from a diminutive burg located in Ontario's tobacco country, the family seat of the Downings throughout the 20th century. The beautifully composed, recorded and performed project is a laconic, nostalgic journey through small-town Canadiana, where linear time is only a concept and the hard-working lives of generations are imbued in the land itself.
The thoughtful and complex Otterville is comprised of 15 original pieces (primarily by Downing) some of which embrace elements and snippets of familiar themes from the Great American Songbook, cleverly re-constructed on a framework of highly intriguing instrumentation, and taking inspiration from diverse tunesmiths Billy Strayhorn, Kurt Weill and Ry Cooder. The fine musicians include (producer) Downing on cello, Tara Davidson on alto saxophone, Christine Bougie on lap steel guitar, Michael Davidson on vibraphone, Paul Mathew on bass, Nick Fraser on drums and special guests Rebecca Hennessy on trumpet and William Carn on trombone.
The opening track, This Year's Fancies, could be considered a loose structural homage to Johnny Mercer and Jerome Kern's standard I'm Old Fashioned, re-invented with a modern, multi-instrumental cacophony of both melodic lines and harmonic dissonance. A standout is Family Portrait, composed by the uber-talented Tara Davidson. Linear sax lines and the heartwarming juxtaposition of strings and reeds make this one of the most appealing and accessible songs on the project. Additionally, Downing's haunting take of Strayhorn's Take the A Train is nothing short of genius and his composition, Leaving Me With a Memory overflows with emotion and sweet reverie, and defines the mise-en-scène of this potent project.