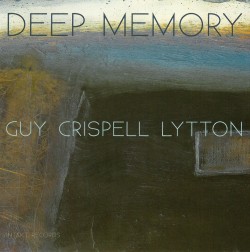 Deep Memory
Barry Guy; Marilyn Crispell; Paul Lytton
Intakt Records CD273 (www.intaktrec.ch)
The trio of bassist Barry Guy, pianist Marilyn Crispell and percussionist Paul Lytton has a longstanding history. Assembled to interpret Guy's compositions, the group recorded Odyssey in 1999, Ithaca in 2003 and Phases of the Night in 2007. Clearly there's a continuing theme apparent in the first two releases, and the group's latest CD seems to reference it with a piece called Return of Ulysses. Guy may be one of the great free improvisers, but his work is often inspired by other arts and both mythic and modernist themes. Here the titles come from paintings by Hughie O'Donoghue – whose dreamlike works fuse representation and fields of welling colour – both trigger and analogue to this richly diverse work.
The group intuition here is at an exalted level, as the three take the conventional jazz piano trio into new terrain. It's sometimes hard to distinguish where Guy's compositions end and the collective improvisation begins, motifs sounding elastic in their first appearance. The opening Scent hints at flamenco sources, with Crispell and Guy vying to assume the guitar part. Fallen Angel juxtaposes tumultuous descending figures with a gently determined lyric rise, while Sleeper is at once minimalist melody and profound reverie.
There's a Romantic power and sweep at work here, each piece stretching at emotional constraint, whether it's a subtle weave of melodies from Guy and Crispell, memories coming into view on the rise of Lytton's drums, or an explosion of percussive energy and ricocheting shards, as in the startling rhythmic unison of piano and drums on Return of Ulysses.