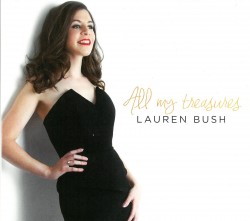 All My Treasures
Lauren Bush
Independent (laurenbushjazz.com)
Currently based in the UK, Canadian jazz vocalist Lauren Bush showcases her diverse musical abilities as she sings and scats a selection of her favourite tunes with energy and a distinctive vocal colour while being supported by her superb band comprised of Liam Dunachie (piano/arranger), Andrew Robb (acoustic bass) and David Ingamells (drums),
The opening I've Got Just About Everything I Need is a fast-paced jazz tune arranged by Canadian musician Don Thompson. Bush sings the challenging plethora of words set at a higher pitch with conviction and clarity. The addition of a horn section provides a welcome New Orleans-flavoured sound for instrumental solos and for Bush to sing a bouncy version of Sweet Georgia Brown. But it is the slower tunes where Bush performs the best. Her sultry vocal opening in the Latin tune Dindi leads to varied vocal stylings with a great horn solo. The Mancini/Mercer song Charade suits her voice perfectly, allowing her to lay back and expand her subtle vocal lyrical qualities while listening closely to the band to set her phrases. Likewise the kid's show classic, A, You're Adorable is given an accented vocal performance against more legato sections, a rousing piano solo and touches of Fender Rhodes chimes.
Kudos to Bush for choosing songs that are both well suited to her voice, and also those more musically challenging. Excellent performances by both Bush and her band set the stage for an exciting musical future.