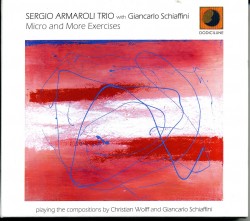 Micro and More Exercises
Sergio Armaroli Trio with Giancarlo Schiaffini
Dodicilune Dischi Ed 360 (dodicilune.it)
Like friends who should be made for one another but avoid hooking up, improvised and new music have grown closer recently but rarely mesh. Yet the Italian stylists here show how handily this could be done. Percussionist Sergio Armaroli and trombonist Giancarlo Schiaffini consistently move between those genres, and assisted by bassist Marcello Testa and drummer Nicola Stranieri put their stamp on 19 Microexercises composed by Christian Wolff, and six extended pieces by Schiaffini. Member of the New York School, Wolff also had improv experience working with the AMM band. Commissioned to write pieces with fewer than 100 notes, Wolff's bagatelles leave open instrumentation, ensemble size, playing order, transposition and dynamics. Schiaffini's compositions reflect his background as a pioneer free music player and collaborator with composers Scelsi, Nono and Cage.
Armaroli and the trombonist are the main soloists, with many of the mini-tunes vibrating with contrapuntal contrast between gutty brass lowing and feather-light vibraphone resonations. Like a group painting project, the performance of many Wolff miniatures, such as Microexercise 8, becomes more dramatic when unbroken vibraphone splashes are paired with spiccato string slices. Analogously positioned drum rolls and pops add gravitas to tunes such as Microexercise 15 that, when coupled with blurry trombone blats, resemble a child of show tunes and nursery rhymes. Armaroli's skill with reductionist marimba chiming elsewhere is augmented Janus-like on Microexercise 20, 21 and 22 where Wolff's pieces open up so that they could come from an imaginary Milt Jackson-Al Grey session. Replete with walking bass line and drum smacks, Schiaffini romps through the changes and Armaroli displays four-mallet ingenuity.
Bringing jazz feeling to Wolff's miniatures is balanced by adding notated precision to Schiaffini's tunes. Testa's woody bowing and Stranieri's processional drum breaks keep the bottom balanced, while Armaroli's percussion collections interpolate polyrhythms plus nuanced tones onto the tracks. Throughout, the trombonist quotes snatches of Italian pop songs and Baroque fanfares with abandon. Most spectacular is Rib, where Schiaffini's output could come from two different 'bone players: one smooth and unaccented, the other raucous and gutbucket. Structure is never neglected though, as this performance eventually relaxes into sparse new music reflections with spaciousness as prominent as rhythm. Musical masters, this quartet scores as musical matchmakers as well.
Ken Waxman