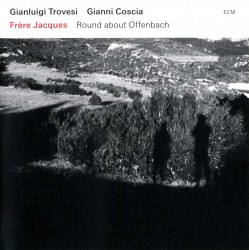 Frère Jacques: Round about Offenbach
Gianluigi Trovesi; Gianni Coscia
ECM 2217
Writing about opera in 1856, composer Jacques Offenbach (1819–1880) ascribed verve, imagination and gaiety to Italian composers and cleverness, good taste and wit to French ones. Who better then to provide a new take on the music of the father of the French operetta than two veteran Italian improvising musicians?
Accordionist Gianni Coscia and Gianluigi Trovesi on piccolo and alto clarinet create stripped-down reconfigurations of 12 of Offenbach's familiar themes. They often meld those lines with their own droll commentaries producing tracks that are post-modern yet jaunty and swinging, with the gaiety implicit in the French composer's best work. Trovesi especially, known for his membership in the Italian Instabile Orchestra, can interject blues tonality in such a way that his echoing glissandi reflect the 21st as well as the 19th centuries. Intensely pumping, Coscia's squeeze box not only provides tremolo rhythms throughout, but adds dance-like slides and jerks which link Offenbach's favoured Belle Epoque can-can to the rustic Italian tarantella.
These affectionate homage-spoofs are frequently expressed in title juxtapositions as well. For instance, Offenbach's lilting merry-go-round styled Et moi is coupled with the duo's No, tu, no, which includes flutter-tongued reed slithers, while their Sei italiano encompasses wide-bore reed cadenzas and comic bellows timing that plays up the thematic lyricism in Offenbach's No! … Je suis Brésilien. The piece also links his operettas to what will become musical theatre songs.
By including staccato tongue flutters and polyphonic glissandi in their renditions, Trovesi and Coscia confirm that their languid and lyrical extensions of Offenbach's themes are treated as seriously as they would the work of any composer or improviser. This impression is fortified on the original Galop … trottrellando when the clarinetist's virtuosic trills only attain decisive bel canto expression alongside the squeeze box interpolating distinctive can-can rhythms.