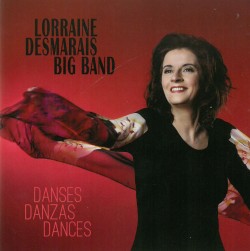 Danses Danzas Dances
Lorraine Desmarais Big Band
Les Disques Scherzo SCHCD-1512 (lorrainedesmarais.com)
A fierce energy leaps out of the opening chords of Lorraine Desmarais' Ultra Triple Swing. It is an immensely exciting start to Danses Danzas Dances, a recording that has you on the edge of your proverbial seat. Primary colours abound in the orchestral texture, and the fast nature of the piece keeps the music on a tight rein, with angular rhythms and phrasing precise and alert. Of course you should expect nothing less from Desmarais, whose mastery of the big band idiom is quite beyond reproach. Conducting from behind her concert grand piano, Desmarais brings the fabulous orchestrations of her most recent music to life with spectacular effect.
The spirited and finely nuanced readings of these charts that literally sweep the listener off his or her feet, and across the dance floors of the Americas, is articulated by vivid performances by members of this wonderful big band. Adopting a spacious, and a feisty, artful approach to navigate the idiosyncrasies of Desmarais' luscious arrangements, the musicians display unbridled virtuosity as well as unusual musical instinct as they bring cohesion to the many disparate elements of the music and generate tremendous high-voltage tension and hair-raising orchestral ingenuity to this music from beginning to end of this exquisite disc.