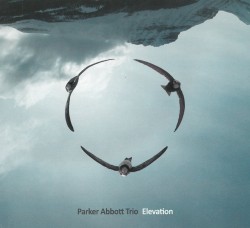 Elevation
Parker Abbott Trio
Independent (parkerabbotttrio.com)
The content of the Parker Abbott Trio concept album on the idea of ascending to a rarefied realm transcends even the image on its package. Somewhere in the swirling ascension of the Alpine Swift in flight lies some very classy piano (and a battery of other keyboards) playing. Indeed both Teri Parker and Simeon Abbott have developed something of an edge-of-the-seat virtuoso risk taking. On Elevation this pays off handsomely. The CD is a selection of short pieces evoking the giddy atmospheric fantasy arising from meditations on odysseys of music and mind. But philosophy aside there is much to enjoy, discover and identify with.
Parker and Abbott's playing – as well as that of drummer and percussionist Mark Segger – is eloquent indeed. The pianists' voicing is expertly balanced in the edifying transcription of the title track and their phrasing sings wonderfully in the near-mystical Night Song and the scintillating Zinnia. The otherworldly music of Maybe makes for a fitting, open-ended conclusion. The trio's enigmatic studies are not the easiest nuts to crack, but Parker, Abbott and Segger's insightful colours have the measure of their limpid introspection and fantasy.
Remarkably, this music – despite the originating imagery – is not as cerebral as one would imagine, but pre-eminently heart driven. Exchanging the intellectual for the emotional may be what makes this exceptionally polished recording get under the skin as well.