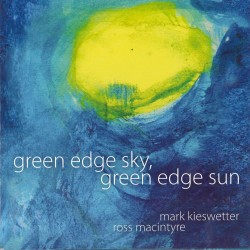 green edge sky, green edge sun
Mark Kieswetter; Ross MacIntyre
Independent (www.cdbaby.com/cd/markkieswetter)
It's always nice – and a relief – when the playing you hear on a CD is as elegant and evocative as its title (and title track). Indeed, that is the case with pianist Mark Kieswetter and bassist Ross MacIntyre's newly released CD, ever-so-evocatively entitled, "green edge sky, green edge sun" (no clumsy caps, here). It is a beautiful album, exquisitely executed by two outstanding musicians who clearly "get" each other. Kieswetter and MacIntyre have captured the true essence of what the best piano/bass duos are all about: elegance, economy, precision, fluidity, style, intimacy, grace, and that magical, intangible chemistry – the simpatico.
Indiana-born Kieswetter spent a chunk of time in Toledo, making quite a name for himself – he was referred to in one article as "Toledo, Ohio piano legend Mark Kieswetter" – prior to arriving in the Big Smoke in 2002. And the accolades didn't stop at the border. He's been the pianist-of-choice for many Toronto-based, talented jazz artists (with obvious good taste), including Heather Bambrick, Emilie-Claire Barlow and The WholeNote's own Ori Dagan. I have it on good authority that at the May 31 CD Release (at the very hip Gallery 345), there were at least two dozen singers in the room who regularly work with Kieswetter. That, in itself, speaks volumes about the man's skill.
The other guy's skill ain't nothing to sneeze at, either. Ross MacIntyre (born, raised and based in Toronto), is one of the most in-demand side musicians in Canada. When he's not in the studio, or playing in town alongside local luminaries like Reg Schwager and Mike Murley, to name but a few, he's touring the world with the likes of Matt Dusk, Elizabeth Shepherd and Barlow. He's also the house bassist for Lisa Particelli's weekly "Girls Night Out Vocalist-Friendly Jazz Jam" at Chalkers Pub. The man is busy.
Despite their whirlwind schedules, it was meant to be for these two highly respected musicians to take a breath and take the time to make some great music together. We're lucky that they did. They've gifted us with 13 tracks including gorgeous and creative arrangements of classics such as Green Dolphin Street (chosen in keeping with the CD cover's "green theme" perhaps?), Lerner and Loewe's The Heather on the Hill and, the final track, Bill Evans' We Will Meet Again, as well as Kieswetter's original title track and his harmonically haunting Ask Alice. Let's hope they'll consider producing a second CD down the road.
I'd be remiss if I didn't mention that Kieswetter's six-year old grandson, Isaac, provided the enchanting – and yes, evocatively "green-hued" – cover art for the album. Hmmm… a serious artistic streak appears to run in the family. Ya think?