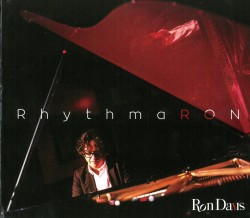 RhythmaRON
Ron Davis
Really Records RR 17002 (rondavismusic.com)
Both subtlety and joie de vivre are pervasive qualities that pianist Ron Davis communicates performing on his first solo disc in 40 years. A sincere and persuasive musician, Davis' playing reveals a long and fond relationship with the 13 works by an array of composers (including Davis himself) on RhythmaRON. Here Give Me the Simple Life, A Child is Born and You Must Believe in Spring are suffused with a distinctive atmosphere. Elsewhere, when the music raises its voice above the proverbial whisper as on Jitterbug Waltz and Rockin' in Rhythm, the narratives are skillfully crafted to maintain a certain expressive decorum. And everywhere Davis alters harmonies and structural elements with impressive restraint, heading in directions that surprise and captivate the ear.
As in the recreations of familiar pieces, his own compositions unfold in a series of dramatic gestures, with droll stops to swing and dance along the way in a salute to the great pianists – jazz stylists from James P. Johnson and Art Tatum to Thelonious Monk and McCoy Tyner – who have inspired his work over the years. Also like them, his sonic palette is stretched in telling ways on RhythmaRON, Cullibalue and Swing Street through the magic of a layered, double-handed virtuoso performance. In all of the works, Davis performs with consummate artistry, blending superior control and tonal lucidity with a cohesive sense of line and motion. As a result, jazz music could hardly be better served.