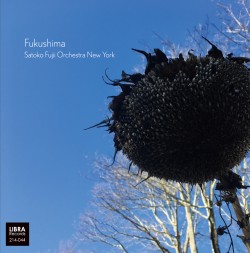 Fukushima
Satoko Fujii Orchestra New York
Libra Records 214-044 (librarecords.com)
Today big jazz bands only exist outside of academic institutions because of the commitment of a collection of musicians and a singularly devoted leader. That said, it becomes possible to gauge the extraordinary calling of Japanese pianist-composer Satoko Fujii and the degree to which she can inspire fellow musicians. Since 1997, when she first unveiled her Orchestra New York, she has also convened chapters in both Tokyo and Berlin. One of the most remarkable features of this new release is that most of the musicians present on the inaugural release, South Wind, have gathered again for the band's tenth, highly exploratory release.
Fujii's inspiration here comes from the Fukushima nuclear disaster, and the sustained merger of composed and improvised textures insists on comparison with the best of the jazz orchestral tradition, from Duke Ellington to Charles Mingus, Carla Bley and Sun Ra. From its haunting, near silent beginnings with breath passing through wind instruments, to harsh tangles of dissonance, electronics and rhythms sometimes forceful and plodding at once, then on to passages of almost bird-like subterfuge, Fukushima summons up all the dimensions of national memory and tragedy, bearing with it the hopes of an awakened population and the possibilities of change.
Along the way, Fujii is assisted in realizing her vision by a 13-member ensemble that includes saxophonists Oscar Noriega and Andy Laster, trumpeter Natsuki Tamura and guitarist Nels Cline, whose complement of electronic effects consistently enriches the music's already varied textures.