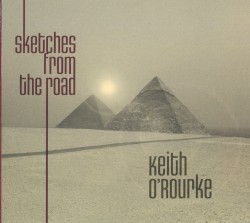 Sketches from the Road
Keith O'Rourke
Chronograph Records CR054 (chronographrecords.com)
Even if the name of the disc – Sketches from the Road – is a dead giveaway, nothing can really prepare the listener for the vivid nature of the music. In fact, Keith O'Rourke may just as well be a graphic artist for the creation of these memorable works. Moreover, when O'Rourke and the other soloists get underway they become more than just painterly in the manner of their musical sojourns; indeed, they also become creators of the very landscapes that are brought to life – from New Orleans in Port NOLA with its breathtaking second line harmonic and rhythmic features to Sketch in Green, Bayswater and Lost Blues that spread their melodies in all their pastoral glory.
Make no mistake however, with all of its frequent and profound impressionism this is still very much a rollicking, swinging jazzy record. Songs such as Double Black and Early Bright are not going to let us forget that; not when they feature the smoky vibrato and rustic tone of O'Rourke's tenor saxophone and the hushed whisper of André Wickenheiser's flugelhorn. And there's no mistaking the swing when both instruments collide with Jon Day's sparkling piano, Kodi Hutchinson's strutting bass and Tyler Hornby's chattering drums on Sonny's Tune. As with that material, so too with the rest of the fare on this memorable disc; O'Rourke shines in his ability to write the most interestingly complex and wonderfully arresting music.