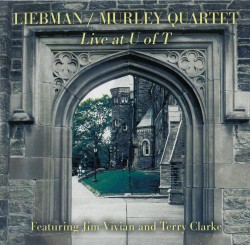 Live at U of T
Liebman/Murley Quartet
U of T Jazz (uoftjazz.ca)
Mike Murley has a decades-long musical relationship with celebrated American, fellow saxophonist Dave Liebman, and it has only strengthened since Liebman joined Murley as a visiting artist/adjunct professor in the University of Toronto's jazz department. This CD documents a performance by the two at the department's concert space, joined by the solid support of fellow faculty members Jim Vivian on bass and Terry Clarke on drums. The style is at the leading edge of the modern jazz mainstream, rooted in the music of John Coltrane and Sonny Rollins as well as Miles Davis (with whom Liebman worked in the 1970s). It's energized, often joyous, and there's a celebratory edge as well as a disciplined focus.
Liebman sticks to soprano and Murley to tenor through the first half of the program, developing sinuous, coiling lines on Vivian's pulsing composition Split or Whole and a relaxed swing on Murley's YBSN. The music becomes increasingly intense when Liebman turns to tenor as well, first setting an exotic jungle atmosphere on flute on Murley's modal Open Spaces before the two press forward, exploring the expressive sides of their tenors, bending pitches and sonorities. Highlights abound, including Liebman's Nebula, an astral soundscape that foregrounds Vivian's arco bass, and the forceful take on the session's only standard, And the Angels Sing.
Far more than a mere faculty event, Live at U of T sets the bar very high for Canada's 2018 jazz releases.