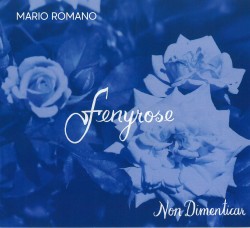 Fenyrose non Dimenticar
Mario Romano
Modica Music MM0020 (marioromano.ca)
I've got to admit that at first I was somewhat skeptical about reviewing a jazz CD by a big-time Toronto real estate developer who returned to his piano playing roots after almost four decades. But listening to Mario Romano's Fenyrose Non Dimenticar – his second CD since 2010 – I was quickly disabused of my skepticism. Romano is the real McCoy, to risk punning on the fact that the legendary Mr. Tyner's influence is apparent in Romano's keyboard style; there are shades of Chick Corea, too. The man has sophisticated chops!
Of the eight tracks on the CD, five are refreshingly arranged covers, two are Romano originals and one is by guest solo pianist, Nahre Sol. Romano is joined by four distinguished musicians, all but one Toronto-based: Pat Labarbera on sax, William Sperandei on trumpet, bassist Roberto Occhipinti and Toronto born, New York-based drummer Mark McLean.
Throughout, Romano's playing is elegant and understated, sometimes driving, sometimes effortlessly languid, all in service to his novel arrangements. Cream's Sunshine of Your Love features Sperandei, and the band just swings! The sax and trumpet work on Non Dimenticar is absolutely lovely, as is Romano's shimmery and stylish keyboard approach. His Hymn for Padre Pio has a grand, sweeping opening, some tasty drum work and splendid sax and trumpet solos. Estate is given a gorgeous, silky treatment, and Romano's Encanto de Mi Niña features him on accordion in a tender, slow-tango serenade.
Each track shines on this gem of a CD. Non dimenticare to check it out!