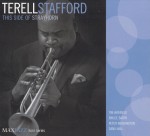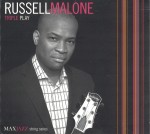 Triple Play
Russell Malone
MaxJazz MXJ607
This Side of Strayhorn
Terell Stafford
MaxJazz MXJ408
Here are two releases on the MAXJAZZ label which was founded in 1998 and is now releasing its albums via the MAXJAZZ website and with international distribution by Naxos.
Russell Malone's Triple Play (Russell Malone guitar, David Wong bass, Montez Coleman drums) features four nicely melodic originals by Malone and seven by others ranging from "Butch And Butch" by Oliver Nelson to the seldom heard "The Kind Of Girl She Is" by Alan and Marilyn Bergman and Dave Grusin. There is also a beautifully sensitive solo performance of the Alex North composition "Unchained Melody." This is a very satisfying CD and a welcome addition to any jazz collection.
Terrell Stafford's This Side of Strayhorn features Stafford on trumpet and flugelhorn, Tim Warfield, on soprano and tenor saxophone, Bruce Barth piano, Peter Washington bass and Dana Hall drums. An album dedicated to the compositions of Mr. Strayhorn is off to a good start and this one follows through with some formidable playing by Stafford and his fellow musicians. One of the tracks is "Lana Turner" which, in case you're wondering, was later re-titled "Charpoy." The CD is a rich cross-section of Strayhorn's amazing output, running the gamut from "Lush Life" to "Smada" via "Day Dream." The excellent arrangements are by Bruce Barth who also adds some first rate solos. But it is the melodic warm sound of Stafford, ably accompanied by Tim Warfield that stays with me.
If these releases are typical of the MAXJAZZ catalogue I can only say that I look forward to hearing more.