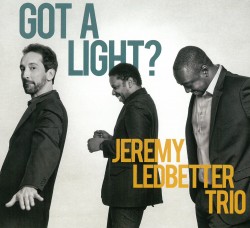 Got A Light?
Jeremy Ledbetter
Alma Records ACD61582 (jeremyledbetter.com)
Got a Light?, released internationally in July by Toronto-based Alma Records, is the debut album from the Jeremy Ledbetter Trio, which includes electric bassist Rich Brown and drummer Larnell Lewis, in addition to pianist/bandleader Ledbetter. If it is somewhat surprising to read the phrase "debut album" in relation to this group of musicians, attribute the feeling to each trio member's ubiquity on the local (and international) jazz scene; Ledbetter, Brown and Lewis all perform frequently in a variety of popular creative projects, both individually and together.
Musically, the group shares some DNA with the Michel Petrucciani Trio and the Michel Camilo Trio; similarities can be found in the Ledbetter Trio's technical firepower, use of electric bass and, especially in the case of the Camilo trio, a propensity for Latin jazz grooves. Moreover, as demonstrated on the title track of Got a Light?, it is the trio's highly developed sense of dynamic control that provides an effective counterpoint to bouts of high-speed improvisational flurries. This sense of contrast works on a larger scale, too: Got a Light? is paced well, as gentle, contemplative pieces like Her New Wings (with vocalists Eliana Cuevas and Leila Ledbetter) and Suspirito (with batá drummer Reimundo Sosa) are balanced against the up-tempo 7/8 About Climbing Mountains, and The Pepper Drinker, the album's burning penultimate song. A bold, exciting album, Got a Light? feels less like a debut than a coherent artistic statement from an experienced band.