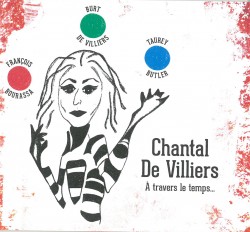 À travers le temps…
Chantal De Villiers; Burt De Villiers; François Bourassa; Taurey Butler
Independent CDV042018 (chantaldevilliers.com)
With the deeply meditative and profoundly beautiful quality of her playing on À travers le temps…, saxophonist Chantal De Villiers displays courage and maturity way beyond her years. Courage, because it is an enormous leap of faith for an emerging soloist to expose her musicality in the intimacy of a series of duets with pianists several years her senior. Her instrument's voice has an elegant sensibility. And her maturity is suggested by the elevated sense of gravitas and erudition of her playing; the stretching out to explore ideas with melodic and harmonic invention that many – even established players – might find challenging.
Her reinvention of the traditional pop song-turned-standard Dear Old Stockholm – almost always associated with Stan Getz and his iconic version – is quite breathtaking. Here De Villiers explores – through gorgeous forays into the song's choruses with Taurey Butler – playful, elegant and ingenious harmonic exchanges that elevate the warmth of her saxophone playing to new levels. In I Loves You Porgy, De Villiers engages François Bourassa with intense, elementally seductive balladry. Of the tracks she shares with her father, Burt De Villiers, the poignant Canadian Sunset is truly alluring, one in which saxophonist and pianist provide a perfectly judged musical context for a song with many heart-on-the-sleeve moments.
All in all, À travers le temps… reflects De Villiers' determination to never play a note or phrase that does not have songful significance; hers is already a unique, expressive voice.