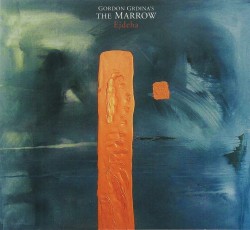 Ejdeha
Gordon Grdina's The Marrow
Songlines SGL2409-2 (songlines.com)
Gordon Grdina has a compound musical identity, as both free-jazz guitarist and devoted advocate of the middle-Eastern oud, the forebearer of many western plectrum instruments ("lute" is a corruption of "el oud"). In Grdina's practice, however, the two overlap, the improvisatory traditions and subtle pitch distinctions of Arabic and Persian music clearly feeding into the kind of jazz he favours. The Marrow's balance is perfect: he and fellow Vancouver-based percussionist Hamin Honari are matched with New York jazz mainstays, cellist Hank Roberts and bassist Mark Helias.
There's no sense of conflict. It's territory that's been an element of jazz since Ahmed Abdul Malik (Jonathan Tim, Jr.) and Yusef Lateef (William Huddleston) first began crossing into this terrain some 60 years ago. Today Roberts and Helias navigate microtonal modes and compound rhythms as fluently as Grdina and Honari, and the result is a very special kind of music.
Grdina's subtle pitch inflections are apparent in the rapid, detailed lines of his rubato introduction to the title track, while Roberts exhibits comparable rhythmic detail in his bowed solo on Idiolect. The two pass from the largely middle-Eastern orbit to something equal-parts European in their opening reflection to Bordeaux Bender. Wayward is emblematic of the sheer rhythmic élan that Honari brings to the project, while Helias throughout moves fluidly from ostinatos to counterpoint to a lead voice.
In all, it's a celebration of improvisation's ability to cross frontiers and create new identities.