When Day Slips Into Night
University of Toronto 12TET
UofT Jazz (uoftjazz.ca)
Explosion
Cory Weeds Little Big Band
Cellar Live CL111317 (cellarlive.com)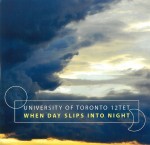 Jazz comes in many sizes including solo, trio, quartet and big band; Cory Weed's Little Big Band's Explosion, and the University of Toronto 12tet's When Day Slips Into Night, are newly released examples of the "small big band" format. This size allows a large sonic palette while having a more flexible group to work with (a famous example is the Miles Davis Nonet that played on Birth of the Cool). Explosion is the work of professional musicians from Vancouver, Edmonton and New York. When Day Slips Into Night is the product of the University of Toronto's jazz performance program and contains a mix of undergraduate and graduate performers and arrangers.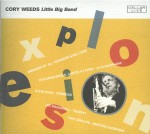 Explosion is full of great music and performances, and the comprehensive liner notes by Chris Wong provide context to the album's development and its individual tracks. Longtime Vancouver saxophonist (and former jazz club owner) Cory Weeds organized the group and commissioned Jill Townsend and Bill Coon to write the arrangements of the songs he chose. All the performances are precise, energetic and just plain swing. Weeds' tenor sax solos are inventive and assured; he can play solid bop lines and then pause and interject some assured lyricism. East of the Village shows the band easily changing from an opening contrapuntal bossa beat that moves to straight swing and back again. Canadian Sunset starts out with its signature loping cowboy rhythm employing Gary Smulyan's baritone sax to good effect and then moves into a swinging section. The final piece, Ready and Able, is reminiscent of Four Brothers as it highlights the saxophone section (Weeds and Smulyan with PJ Perry on alto and Steve Kaldestad on tenor), beginning with tight ensemble playing and then opening up to multiple solos, which transition from full choruses to exchanging two-bar phrases, before building to an energetic conclusion.
When Day Slips Into Night features the work of student arrangers, though it begins with Extra Time written by Mike Murley and arranged by Terry Promane, who also leads the band. Bolivia is a solid swinging song which begins with some great piano work by Noah Franche-Nolan, then uses the brass and saxes to good effect, where Brandon Tse plays some great scampering alto sax solo lines. One of the more interesting arrangements, and an example of the album's intriguing choice of material, is (Ocean) Bloom, originally a collaboration between Radiohead and film composer Hans Zimmer for the BBC's Blue Planet II. I find this arrangement by Michael Henley, with vocals by Brooklyn Bohach, to be more stirring than the original: the band is highly effective when it builds to the crescendos and then recedes into the performers producing semi-muted whale and ocean sounds.
Explosion is the work of veteran performers and When Day Slips Into Night features students, but the latter album has solid production and performances. Some of Explosion's arrangements are more complex and the solos are more individualized, showcasing each musician's personal creativity and musical development. Both albums are worth repeated listening.