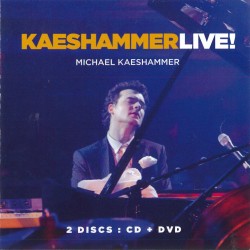 Kaeshammer Live!
Michael Kaeshammer
Alert Music Inc. 61528-10439
Michael Kaeshammer is a prolific guy. Since 2001 he has released six studio albums, the latest in 2011, and much of them populated with his own songwriting. Add to that this DVD-CD of a live performance, and that's quite a body of work for someone of his relative youth. The other striking thing about Kaeshammer is his love — one might even say obsession — for New Orleans-style music. It comes across in his songwriting as well as in his philosophy toward performing, which, despite his monster skills on piano, is more about having a good time than extended jazz soloing.
Having seen Kaeshammer play live, I have first-hand experience of what a joyful performer he is. Even when it's just him at the piano, he can command a room with his charisma and energy. Watching a DVD of one of his concerts isn't a substitute, but it comes close. Especially since Kaeshammer Live! was recorded in an "in the round" setting in an intimate hall in Toronto, so the cameras were able to get in close and capture a variety of angles of the band (which includes three horns and two backing singers). Drummer Mark McLean's expressive playing is especially fun to watch, and the "cutting contest" between him and Kaeshammer on a Fats Waller tune is one of the highlights of the concert.
Kaeshammer Live provides a concise sampling of the personal and musical journey this ever-evolving musician has taken from smokin' hot boogie woogie piano player, to romantic balladeer and back again to a musical place that is uniquely his.