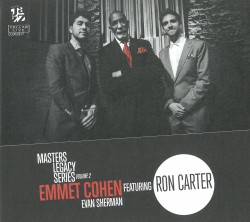 Masters Legacy Series Volume 2
Emmet Cohen featuring Ron Carter
Cellar Live CL062917 (cellarlive.com)
Masters Legacy Series Volume 2, from New York-based pianist Emmet Cohen, represents a confluence of multiple productive collaborations. The first: between Cohen, drummer Evan Sherman, and bassist Ron Carter, the latter of whom, for the unfamiliar, is the titular master whose legacy is being celebrated. Now 81, Carter has appeared on over 2000 recordings, and came to prominence in the 1960s as a member of Miles Davis's "second great quintet," along with Herbie Hancock, Tony Williams and Wayne Shorter. The second collaboration: between Cohen and Vancouver-based record label Cellar Live, helmed by Cory Weeds. Initially a label that predominantly released live recordings made at the now-defunct Cellar Jazz Club in Vancouver, Cellar Live has grown into an independent powerhouse, with over 120 releases since its inception in 2001. The third collaboration, in a somewhat broader sense: between New York and Vancouver. Weeds and Cohen first met in 2016, as part of an annual Weeds-conducted jazz-centric tour of New York, and Masters Legacy Volume 2 was recorded at Vancouver's Pyatt Hall.
With 12 tracks and over 70 minutes of music, the album is packed with interesting material. All Of You kicks things off, recalling, in its tasteful, playful minimalism, the work of Ahmad Jamal, another living jazz master. The Carter-penned blues It's About Time is an album highlight, with strong, swinging playing from the trio, and a fiery, tempo-shifting Joshua closes the show, showcasing Carter's propulsive facility. A strong album, both in concept and execution.