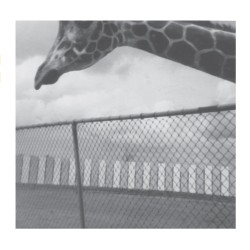 Lézardes et zébrures
Bernard Falaise
Ambiances Magnétiques AM 237 (actuellecd.com)
Guitarist Bernard Falaise is a significant contributor to Montreal's musique actuelle movement, a member of the expansive Ensemble SuperMusique as well as the trio Klaxon Gueule and Quartetski, a group that regularly re-imagines high modernist composers like Bartók and Stravinsky. Lézardes et zébrures is a solo record, but one without solos, a series of pieces constructed from minimal materials. Each begins with short figures, intervals and arpeggios played on an acoustic guitar in open tunings to emphasize steel string resonance and ringing harmonics; these are then looped, with Falaise adding layers of other instruments, among them electric guitar, glockenspiel and melodica.
The opening Au zoo sets both a pattern for the music and an intermittent theme, one that's reflected in titles like Langue de girafe and Mémoire d'éléphant, and even in the CD title – literally "cracks and welts" but with the bi-lingual suggestion in this context of lizards and zebras. These notions of other species' consciousness are matched with alternative substances and spaces – Marcher sur la glace or Stalactites et stalagmites – all of them implicit in sounds that repeat and reconfigure. All of Falaise's works here are at once immediate, luminous and strangely dream-like.
The oscillating figure of Le compas dans l'œil suggests Steve Reich's minimalism, while the clicks and suspensions of Distillations reference the turntablist's art, but it's all part of Falaise's bright, immediate, sonic universe, developed at greatest length in the imagination of another materiality in Porcelaine 360°.