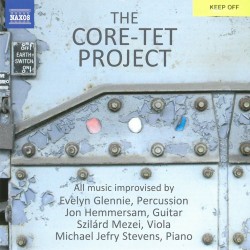 The Core-Tet Project
Dame Evelyn Glennie; Jon Hemmersam; Szilárd Mezei; Michael Jefry Stevens
Naxos 8.573804 (naxos.com)
All of us who love to free improvise (and all the rest of you too) need to listen to The Core-tet Project improvising over 70 minutes of in-the-moment illuminating, live musical sounds. Members Dame Evelyn Glennie (percussion), Jon Hemmersam (guitar), Szilárd Mezei (viola) and Michael Jefry Stevens (piano) are each musical superstars, but the big surprise here is how well they create music together.
From the initial piano ping in Steel-Ribbed Dance, each soloist joins the cohesive tight group with virtuosic rapid lines, beating repeated notes and tinges of guitar and piano jazz flavours. The Calling is a quieter, slower soundscape. I love the hypnotic percussion and piano opening leading to a classic middle free improv section with piano and percussion strikes, guitar lines and viola slides. A sense of humour and individuality shines in Walk of Intensity. From the opening pacing piano feel, each instrumentalist runs at their own pace, building to a higher pitch, then gradually subsiding to a final piano note. Silver Shore is a moving, expressive piano and viola duet with its counterpoint and harmonies emulating a notated piece of music. Black Box Thinking features a wall-of-sound setting with the percussion and viola in a "Who will win this percussive banging conversation?" contest. The closing Rusty Locks has a fun groove-driven upbeat dance feel.
The booklet notes, penned by Glennie and Stevens, give a sneak peek to each track. Recording is clean and alive. Enjoy!