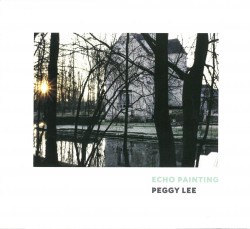 Echo Painting
Peggy Lee
Songlines SGL1626-2 (songlines.com)
The artistic genius of Vancouver-based composer/performer/leader Peggy Lee is in top form in Echo Painting, a suite commissioned by the 2016 Vancouver International Jazz Festival. The Lee-composed tracks touch on free improvisation, jazz, and classical genres, providing her new ten-piece ensemble (comprising veteran and younger Vancouver area musicians) eloquent music to interpret. 
The opening Incantation sets the stage with mellow, slow, full ensemble held-note soundscapes and a jazz-tinged tenor saxophone solo against florid drumming. A Strange Visit touches on many styles with its fast, almost minimalistic string opening leading to a slower atonal improvisational section, and finishing with a march-like groove. More diverse style references emerge in Snappy, as Lee's opening cello improvisation leads to atonal squeaks and repetition. A surprise polka-sounding section with string lead follows, with more fun in the subsequent wall-of-sound drum section. It all ends with crackling new music sounds. Hymn is a relaxing, reflective work with classical tonal harmonic changes. which develops into a more modern-day jazz number. All but three tracks were composed by Lee, the most notable being a straightforward cover of Robbie Robertson's The Unfaithful Servant sung by guest vocalist Robin Holcomb, a surprising yet gratifying closing musical moment.   
Lee and her musicians move seamlessly between musical ideas with tight ensemble playing whether from notated scores or improvising. This is an original, detailed, unique recording.