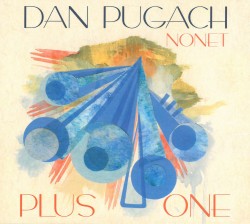 Plus One
Dan Pugach Nonet
Unit Records UTR 4816 (unitrecords.com)
Israeli-born, Berklee-educated drummer Dan Pugach's debut bandleader album, Plus One, recorded in Brooklyn and released on the Swiss label Unity Records, is a compelling offering that functions both as a celebration of diverse influences and as a unified statement of artistic intent. Plus One is a nonet record, and Pugach arranged (or co-arranged, with vocalist Nicole Zuraitis) all of the album's nine tracks, the majority of which – with the exception of Jolene, Crystal Silence and Love Dance – are original compositions.
Brooklyn Blues, the opening track, is a fitting beginning for the album, as it showcases Pugach's confluent interests: while the harmonic and textural choices may be Brooklyn, the song is anchored by a classic New Orleans second-line rhythmic feel. The influence of modern large-ensemble composers such as Maria Schneider is evident on the 7/4 Coming Here, a driving, lyrical Pugach original, which features a powerful trumpet solo from frequent Schneider collaborator Ingrid Jensen, as well as great solo work from tenor saxophonist Jeremy Powell and, in the song's final section, from Pugach himself. Our Blues, an original 12/8 blues that recalls Bonnie Raitt as much as it does Charles Mingus, is a tongue-in-cheek piece that features Zuraitis' strong vocals. The exciting, medium-up Discourse This! ends the album, with great solos from alto saxophonist Andrew Gould, trumpeter David Smith and Pugach. Plus One is a robust, intelligent debut, and is as notable for its arrangements as it is for its top-tier playing.