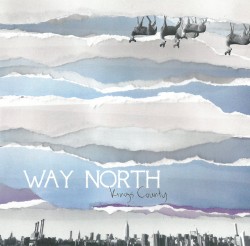 Kings County
Way North
Independent (dangerherring.com/waynorth)
Way North explores roots-based music in a highly contemporary framework. The quartet is a collective comprised of Toronto-based musicians, trumpeter Rebecca Hennessy and bassist Michael Herring along with Brooklynites Petr Cancura on saxophone and clarinet and Richie Barshay on the drums. The music is instantly inviting and infectious with a capacity for taking the listener to unexpected places. The often contrapuntal nature of both the writing and the improvising brings an earlier era of jazz to mind, specifically New Orleans, albeit a NOLA for the millennium. Rarely does a solo go on for too long without being joined by another voice or voices. At times the group improvisations can sound as if they were composed, meshing seamlessly with the written parts.
Each of the group's members has contributed compositions to the recording, resulting in a coherent and satisfying flow of tunes. Cancura's Where the Willows Grow evolves from a slow march to a bass solo that becomes a duet with trumpet before being joined by the rest of the group. Treefology is a Michael Herring composition that combines counterpoint with unison melodies over a second- line groove. Trumpet and saxophone continue the theme, soloing together with remarkable unity of intent. Hennessy's Kings County Sheriff is a five-beat figure with a tango-like feel. Her poignant flamenco-ish solo is met by Cancura's sax solo which ranges effortlessly from an intense growl to modern chromaticism. The tune, like the rest of the album, revels in the spirit of lively conversation.