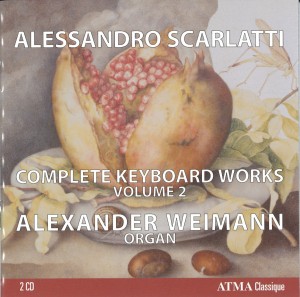 Alessandro Scarlatti - Complete Keyboard Works, Vol.2
Alexander Weimann
ATMA ACD2 2528
Alexander Weimann, currently director of the Pacific Baroque Orchestra and an impressively versatile musician, has undertaken to record the complete keyboard works of Alessandro Scarlatti. So far, this survey has focused largely on toccatas omitting what Weimann deems as pedagogical works or what one musicologist has simply called "pupil fodder".
These early 18th century pieces rarely specified the keyboard instrument for which they were intended and over the years performers have produced recordings for harpsichord, organ, piano and even arrangements for electronic keyboard with digitally sampled sounds!
The choice of pipe organ, however, does offer several strong artistic merits. This instrument in particular, with its Baroque voicing and tonal plan, gives Scarlatti's music a degree of colour difficult to achieve on any other keyboard instrument. Its tracker action (direct mechanical linkage to the keyboard) also provides for remarkably fast single-note repetitions that are impossible on harpsichords and most lesser pianos.
All the tracks on these two CDs reflect Weimann's fine musical decisions regarding tempo, phrasing and registration (tonal colour). Despite some very high speed passage work, Weimann maintains a clarity and crispness that delivers each note when it might otherwise be easier to drop a few. His playing uses the instrument to its greatest advantage.
ATMA cites the instrument as a 1993 Wilhelm at Église Trés-Saint-Rédempteur in Montreal but neglects to offer a complete "stop" list which most other organ recordings would do. Organ fans can be obsessively curious about these things and will hope for more information in Volume Three.
Overall Weimann offers a very listenable and fresh take on Italian keyboard music from the Baroque that is often overshadowed by the German school of the same era.