Clipper Erikson explores a dual theme in his new CD release Tableau – Tempest & Tango (Navona NV6170 navonarecords.com). Beginning with the dark overtones of Russian history, he explores works by Russian-born composer David Finko. He combines Fantasia on a Medieval Russian Theme with three piano sonatas that cover a 15-year period in the composer's life. Finko's music is substantial and occupies the entire first disc. The Russian theme continues on the second CD with Mussorgsky's Pictures at an Exhibition. Erikson reads a great deal of personal content into this familiar work and draws philosophical connections from its program to Finko's compositions.
The tango element appears courtesy of composer Richard Brodhead who wrote both Sonata Notturno and Una Carta de Buenos Aires for Erikson. While the Latin flavouring and dance form are unmistakable, they blend with a contemporary language to form a unique expression that sustains interest throughout the works.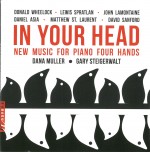 Dana Muller and Gary Steigerwalt have been performing as a piano duo for more than 30 years. Their latest recording In Your Head – New Music for Piano Four Hands (Navona NV6190 navonarecords.com) is a reminder of how much wonderful four-hands repertoire there actually is beyond the familiar material of the 19th and early 20th centuries.
The works on this disc are by six American composers and present an astonishingly wide array of compositional styles. The opening tracks are a five-part suite by Donald Wheelock titled Mind Games, to which the CD links its own title. The final movement comes as a complete surprise with an energetic and humorous touch.
The major work is John La Montaine's Sonata for Piano Four Hands Op. 25. This is a substantial work with a clear intent to exploit everything two players can bring to the keyboard collectively. Density, volume and colour are the effects the composer requires the pianists to create. These are particularly critical in the closing Fugue, where the subject relies heavily on these devices.
While there's so much in this program that's commendable, Dreamworlds by Lewis Spratlan deserves special mention for its unique shadings and the distinctive voice of its composer. Its three movements are artfully and entertainingly written character portrayals.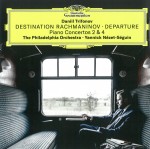 Daniil Trifonov lives in the shadow, cast by mountains of gob-smacked reviews all struggling for fresh superlatives to describe his impact on the world of piano music, of his own success. His newest release Destination Rachmaninov – Departure, Piano Concertos 2 & 4, The Philadelphia Orchestra, Yannick Nézet-Séguin (Deutsche Grammophon 0289 483 5335 4
deutschegrammophon.com/en/artist/trifonov) demonstrates why he has such an effect. Plenty has been written about his technique and the perfect ease with which he manages the most demanding passages. There is, moreover, a sense of confident repose in his musical presence that creates a sense of originality and newness to everything he plays. Conductor Yannick Nézet-Séguin describes it as seeming to compose the music as he is playing it.
Both concertos on this disc are truly breathtaking. The lesser known No.4 is especially satisfying to hear for its rarity and the occasional flavours of jazz-band harmonies that recall the contemporary sounds of 1926 New York. The most memorable moments are those when Rachmaninov swells the music to a veritable orchestral and pianistic tsunami that wreaks an exhilarating devastation on anyone listening.
Trifonov also includes three sections from Rachmaninov's solo piano transcription of Bach's Violin Partita No.3 in E Major, BWV1006. His performance shows how much fun Rachmaninov had stripping away the Baroque strictures in favour of a more playful contemporary iteration.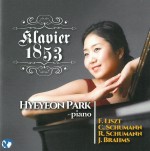 Hyeyeon Park is an accomplished performer and a respected academic. Her new release Klavier 1853 Liszt, Schumann, Brahms (Blue Griffin records BGR351 bluegriffin.com) uses 1853 as the starting point for a selection of piano works that have their genesis in that year. It seems to have been a time of historical significance on numerous fronts. Both piano manufacturers Steinway and Bechstein founded their respective firms in 1853. More importantly, the paths of several key musical personalities crossed in that year, beginning a series of influential relationships that shaped the evolution of European music.
The young Brahms met Liszt in Weimar in June 1853 shortly after Liszt had completed his Ballade No.2 in B Minor S.171. By September he'd presented himself at the Düsseldorf home of Robert and Clara Schumann. Clara had written her Variations on a Theme by Robert Schumann Op.20 in early 1853 as a birthday gift for her husband. After Robert Schumann's decline in health, Brahms used the same theme in a set of variations he composed as a gift for Clara. Brahms had arrived with some samples of his work including the Piano Sonata No.3 in F Minor Op.5. Robert was so impressed by this young talent that he experienced a resurgence of creative inspiration and composed several pieces, including the Gesänge der Frühe Op.133.
This group of historically-linked pieces forms the intriguing program Park performs on this disc. She is a complete artist who brings everything to this music that it needs. She plays with a Romantic sensitivity to the language of each composer, perfectly capturing the spirit of the age.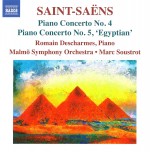 Romain Descharmes' new CD Saint-Saëns Piano Concertos Nos.4 & 5 "Egyptian" (Naxos 8.573478 naxos.com) completes his project begun in 2017 with the release of the first three concertos. Marc Soustrot conducts the Malmö Symphony Orchestra for all the performances in the set.
The two-movement Concerto No.4 is not often heard. The easy flow of the music from both the piano and orchestra comes as a reminder of Saint-Saëns' remarkable gift for composition. Descharmes' playing perfectly matches the attractive elegance of the music. While his sensitive playing suggests a vulnerability that suits the composer's voice exquisitely, power and forceful statement are always available when needed.
The artistic partnership between pianist and orchestra is superb. It makes its greatest impact in the Concerto No.5 "Egyptian" where Saint-Saëns uses exotic orchestrations and musical ideas to create his Egyptian mystique. Descharmes describes the work as the composer's best – a showpiece designed to impress and dazzle the audience. Everything builds toward the final movement where high energy, brilliant scoring and performance leave an impression as lasting as the pyramids at Giza.
This recording is excellent on all counts. It reflects the highest production values and a shared artistic genius consistently present from start to finish. If you're going to get this recording, get the earlier two discs as well. It's a set worth having.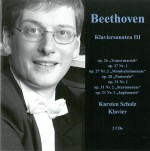 Karsten Scholz is now well into his project to record Beethoven's 32 piano sonatas. His latest release is, like its two predecessors, a two-disc set, Beethoven Klaviersonaten III (Elmstudio 300970-4 karstenscholz.de). Apparently recording them in reverse chronological sequence, this third set presents the early half of the middle sonatas, Nos.12-18. The first two sets cover everything after this period and clearly, the early sonatas are yet to come.
Scholz is in his late 40s and has an impressive bio with a credible collection of awards, postings, performances and other career achievements. In a world filling quickly with self-recorded and self-promoted artists, Scholz stands out as an obvious talent. Scholz is the kind of artist that sets the standard for trusted, intellectually informed performance. Maturity guides his artistic decisions. His expression has a wide dynamic supported by wonderful keyboard technique all of which is spent in aid of the perfect balance.
Sonata No.14 in C-sharp Minor, Op.27 "Moonlight," is for its wide familiarity and inner variety, a potent litmus test of interpretive skill. Scholz takes the opening movement with an unhurried intention that frequently hesitates at critical phrase endings to heighten the appearance of the next idea. The second movement is slower than often heard but effectively echoes the tenderness and also sets up the high-speed turbulence of the final movement.
All seven sonatas in this set benefit from the same unerring performance quality that Scholz has made his hallmark in this project.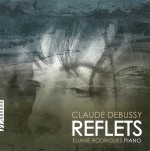 Eliane Rodrigues has recorded nearly 30 CDs and shows no sign of easing up her pace. Her latest recording is Claude Debussy – Reflets (Navona NV6164 navonarecords.com). Rodrigues has chosen a program that supports her view of Debussy as a composer of more than just languid, dreamy, impressionistic music. Indeed, it's as much her approach as it is the program that clinches her argument. The opening tracks, Suite Bergamasque, contain the famous Claire de lune, which is usually taken as a prime opportunity for creating the impressionistic atmosphere of Debussy's fluid arpeggios and richly blended harmonies. Rodrigues, however, moves through the piece at a more determined pace, lingering less indulgently on the familiar emotional hotspots. Surprisingly, the work loses nothing in this approach and comes across with a new and rather different meaning – something perhaps more actively philosophical rather than deeply contemplative.
Other tracks like Pour le piano, especially its Toccata movement, are highly energized and percussive, words not often used to describe this repertoire. Intriguingly, this performance does more to connect the composer to some of his contemporaries than a traditional interpretation would do. Ravel and Satie suddenly share a kinship with Debussy that has hitherto seemed more tenuous.
Still, Rodrigues doesn't entirely reject Debussy as the arch-impressionist of piano composition. Arabesques is as powerfully mystical as you'll hear it played by anyone. So too are the slower movements of Images Books 1 & 2. Rodrigues knows exactly what she's doing and her ideas are worth hearing.
Mahan Esfahani has resumed his recording relationship with Hyperion Records with an early November release The Passinge Mesures – Music of the English Virginalists (Hyperion CDA68249 hyperion-records.co.uk). Having recorded a couple of discs in 2014 then moved to DG for a couple more in 2015 and 2016, Esfahani is back at Hyperion with his articulately unapologetic approach to harpsichord performance. Current plans include some pre-Baroque repertoire, plenty of J.S.Bach as well as contemporary works written for Esfahani himself.
The current recording samples music from well-known composers of the Elizabethan and Jacobean periods: Byrd, Farnaby, Bull, Gibbons and others. Esfahani's liner notes offer a passionate argument about the limited usefulness of authentic performance approaches to early forms of music. Freed from the tightest interpretive and stylistic constraints, Esfahani explores emotional expression through tempo changes, rich ornamentation and an intensity of performance whose absence has made the instrument a tough sell to a wider audience. He plays with an enormous amount of energy. And in some inexplicable way, he brings out inner voices and countermelodies on an instrument where this is not supposed to be possible.
Esfahani points to the humanity, beauty and complexity of Shakespeare's work and asks why music of that period shouldn't be considered in the same light. He may have single handedly begun the expansion of our thinking on issues of early music performance. He has, at least, shown us a credible alternative to what has been doctrine for several decades.