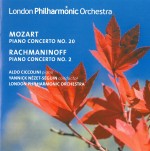 Aldo Ciccolini, who died in 2015 at age 89, is remembered for his specialization with classical repertoire as well as modern French music, especially Satie. His collaborations with Yannick Nézet-Séguin in 2009 and 2011 have yielded a recording of these live concerts: Mozart Piano Concerto No.20, Rachmaninoff Piano Concerto No.2; London Philharmonic Orchestra; Yannick Nézet-Séguin (LPO 0102 lpo.org.uk/recordings).
The recorded performances are wonderful documents, slowed a bit by advanced age, but utterly perfect in every other way. Ciccolini, even in his 80s, had the lightness and clarity of touch to navigate Mozart with supreme elegance. Yet the power needed to battle through the Rachmaninoff Concerto No.2 seems undiminished. Ciccolini plays with a discernible affection for the music, without hasty completion of ideas. Every slightly lingering moment seems so appropriate.
The concerts must have been remarkable events, and judging from the audience response, being there was an unforgettable privilege.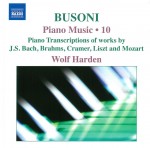 Wolf Harden continues his productive career on the Naxos label with his latest CD Busoni - Piano Music - Vol.10, Piano Transcriptions of works by Bach, Brahms, Cramer, Liszt and Mozart (Naxos 8.573806 naxos.com). Busoni's transcriptions have a distinctive sound. They are big and often dense, but always reflect his abiding respect for the form and structure to which his subject composers adhered. Harden is obviously at home in this genre but equally comfortable with exploiting Busoni's style for its Italianate swells of emotion.
The most intriguing tracks on this recording are the Brahms Chorale Preludes for Organ Op.122 in which Brahms' Romanticism is augmented by Busoni's often heroic keyboard style. Harden plays this with such perfect balance, preserving the sacred nature of the chorales while allowing Busoni to restate them in his own unique terms. Brahms sometimes buried the chorale melody rather deeply in his harmonic mix but Harden never loses his grip of it, keeping the line prominent and easy to follow.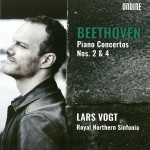 Lars Vogt appears as pianist and conductor on his latest release Beethoven Piano Concertos 2 & 4; Royal Northern Sinfonia (Ondine ODE1311-2 ondine.net). Directing from the keyboard, Vogt leads the orchestra in a highly energized performance of these familiar works. The RNS is a mid-size ensemble well suited to the classical repertoire, and despite the size of their home concert hall, they maintain a satisfying sense of intimacy in their playing.
Both concertos are a delight to hear but the Concerto No.4 really shows the composer as a mature tunesmith. The players sound as if they take some special delight in driving forward the powerful rhythms of this concerto. Vogt is brilliant at the keyboard. His playing is articulate, fluent and sensitive. Rapid ornaments roll from his fingers with astonishing ease. It's an exciting and bracing recording.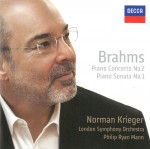 Norman Kieger's latest release Brahms Piano Concerto No.2, Piano Sonata No.1; London Symphony Orchestra; Philip Ryan Mann (Decca DD41142/481 4871 decca.com) meets the high expectations raised by its cover. From the opening French horn solo to the concerto's final chords, orchestra and soloist are perfectly balanced. The fabled third movement cello solos are as beautifully played as you'd ever hear, and the ensemble playing throughout is flawless. The disc also includes the Sonata No.1 in C, Op.1. Even though the two works were recorded in different locations, the relative audio presence of the piano and the space around it are almost identical. This consistency reflects the label's high production values and contributes to the exceptional quality of this recording.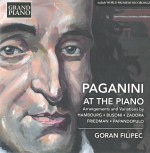 Goran Filipec is a powerhouse pianist, and it's just as well because no less would do for the repertoire on his latest recording Paganini at the Piano – Arrangements and Variations by Hambourg, Busoni, Zadora, Friedman, Papandopulo (Grand Piano GP 769 grandpianorecords.com). Paganini's music and virtuosity, especially his Caprices for solo violin, had considerable impact on his piano playing and composing contemporaries. Filipec selects a fine sampling of these inspired keyboard works beginning with a huge set of variations by Hambourg on perhaps the best-known Caprice, No.24. Friedman's Studies on the same thematic material are equally long, challenging and impressive for their creative originality. Along with the disc's other tracks you'll be left breathlessly awestruck by Filipec's playing.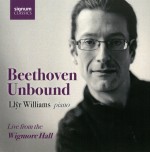 Welsh pianist Llŷr Williams last year completed a Beethoven concert cycle at Wigmore Hall which was recorded and recently released as Beethoven Unbound (Signum Classics SIGCD527P signumrecords.com). The 12-CD box set represents an enormous three-year recording project that documented the complete piano Sonatas, Bagatelles and Beethoven's several sets of Variations. In all, there are nearly 14 hours of music to satisfy the most demanding Beethovenian consumer.
Williams is supremely capable in this repertoire and possesses a formidable keyboard technique. His artistic vision for this music is to lift it above the struggle we almost naturally assume underlies all the composer's writing, and set it free in a much larger space. Here is where Williams decides that joviality, tenderness, passion and genius all have a place in Beethoven's universe. While Beethoven Unbound is a welcome addition to the world of complete sets, it's a significant re-visioning of music we have perhaps known too well.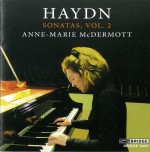 Anne-Marie McDermott's latest recording is Haydn Sonatas, Vol.2 (Bridge 9497 BridgeRecords.com) and contains four Sonatas, 37, 39, 46 and 48, Hoboken XVI, from the composer's mid- to late-career years. The immediately arresting thing about McDermott's playing is her speed and clarity. Her fast tempos are as quick as most performers can manage, yet entirely without loss of articulation. Her phrasings are impeccable and artfully crafted to lift in all the most effective places. She imbues a sense of whimsy and playfulness into Haydn's music, replacing the too-often heard mechanical approaches that many performers take for the composer. She assumes that the music is already all there and she just needs to find it and reveal it. Even more interesting is the way McDermott brings a kind of retro-romance to Haydn. Imagine Chopin or Debussy playing these, blending the perfection of classicism with the passions of their subsequent eras. It's a beautiful and fresh approach by a supremely gifted pianist who needs to be more widely heard.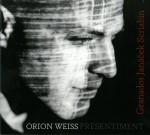 Orion Weiss adds a new release to his current handful of recordings with Presentiment (orionwiess.com). Weiss's program captures the foreboding felt in the years before the First World War. This anxiety is only subtly present in the Granados Goyescas, but Weiss finds it in the music's shadows and teases it out into the open. He's a seductive performer; a charmer of sorts. Only in the final two movements does he fully explore what Granados has only been hinting in his earlier pages. Weiss plays Goyescas with an easy lightness that makes many of its phrases pure dance. The best I've heard in a long time.
Progressively, more of the early-20th century's angst reveals itself in Janáček's In the Mists. Weiss uses the deep melancholy of this work's plaintive melodies to lead up to the disc's final piece, Scriabin's Sonata No.9 Op.68 "Black Mass." Here there's no longer any doubt about what the world is about to experience. Weiss portrays it all with a mature and measured confidence.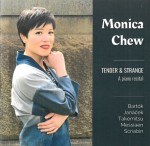 Monica Chew is a gifted player with an affinity for deeply sensitive expression. Her debut recording Tender & Strange – A Piano Recital: Bartok, Janáček, Takemitsu, Messiaen, Scriabin (Chronicalicious CHR 170001 monicachew.com) conveys this in a powerful way and her program title aptly reflects her recital's intentions. Each of her chosen pieces has some passages where this inner search is evident, but she makes the deepest impression with the Messiaen Le baiser de l'enfant-Jesus. Here she speaks the composer's language fluently. Similarly, both of Takemitsu's Rain Tree Sketches capture a contemplative other-worldliness. No.2 in particular, In Memoriam Olivier Messiaen, holds the listener in suspense through its numerous sustained chordal clusters that fade over extended fermatas, each followed by total silence before the next notes sound. Chew plays these final pages of the piece with impeccable timing and musicality.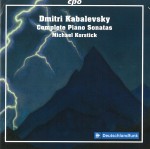 Michael Korstick has several dozen recordings to his credit and his latest is Dmitri Kabalevsky – Complete Piano Sonatas (CPO 555 163-2 naxosdirect.com/labels/cpo). Kabalevsky's piano music suffers the fate of being overshadowed by that of other Russian contemporaries like Prokofiev and Rachmaninoff, but the artistic commitment of performers like Korstick and labels like CPO make this music both available and worth hearing. Kabalevsky's three sonatas are his only efforts for solo piano in a large form. The first dates from 1927 and the other two from 1945 and 1946 respectively. Kabalevsky wrote the Sonata No.2 Op.45 for Emil Gilels, who premiered it in the Soviet Union in 1945. Vladimir Horowitz performed the American premiere at Carnegie Hall in 1947. It's the most engaging of the three sonatas, with some devilishly difficult passages in the final movement. On the whole, it's a beautifully written piece and offers so much that repeated plays are a necessity. Korstick does a fabulous job performing it.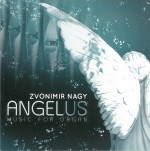 Organist and composer Zvonimir Nagy has a new recording of his recent works. Angelus – Music for Organ (Ravello Records RR7987 ravellorecords.com) begins with the title track Angelus, and establishes the profoundly meditative nature of this disc's program. The recording was made on the four-division pipe organ in the Chapel of the Holy Spirit at Duquesne University in Pittsburgh, where Nagy is associate professor of music. It's a modestly sized instrument and well-balanced for the acoustic space the chapel offers.
There is a marked minimalism in Nagy's writing. He uses the instrument's broad dynamic range and colourful stop list to create some very beautiful moments. Even while he concentrates on form, writing movements that are inversions and retrogrades of each other, he is always focused on creating the meditative atmosphere he wants for works like Litanies of the Soul and Preludes for a Prayer.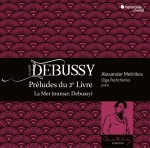 Alexander Melnikov is a graduate of the Moscow Conservatory. His new recording Claude Debussy – Préludes du 2e Livre, La Mer (Debussy version for four-hand piano) (Harmonia Mundi HMM 902302 harmoniamundi.com) includes pianist Olga Pashchenko in the transcription of La Mer.
Debussy accepted his publisher's request to write the transcription, and created a work that blends an astonishing amount of orchestral colour into the capabilities of a single keyboard with two players. Melnikov and Pashchenko are wonderful partners in this recording. They play with a deeply shared artistic sensibility and deliver both the power and rich palette of the orchestral score.
Melnikov plays the Préludes Book II leaving the impression that he understands exactly what Debussy intended to convey. His technique is impressively clean and crisp, and his interpretations are completely convincing. He plays with great attention to colour and emotion, and takes advantage of Debussy's frequent harmonic densities and other devices to make this a completely captivating disc. Melnikov favours authenticity in performance and has chosen to play an Érard in this recording.