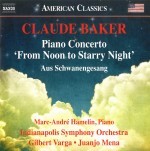 Marc-André Hamelin's new CD partners him with the Indianapolis Symphony Orchestra for a world premiere recording of the Claude Baker Piano Concerto "From Noon to Starry Night" (Naxos 8.559804).
Based on a poem by Walt Whitman, Baker's work is highly detailed with many linkages to the structure of Whitman's poem. Baker several times quotes well-known musical material to emphasize the programmatic content of both his music and Whitman's poem.
The five-movement concerto is complex and presents considerable technical and interpretive challenges for the pianist. Hamelin's performance integrates beautifully into this demanding ensemble requirement. He is particularly potent where he dominates the orchestra in pianissimo passages. For all its beauty, the work is one of very high tension. Baker is a brilliant composer and has the perfect pianist to premiere this remarkable work.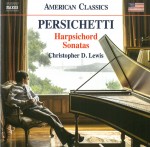 The harpsichord has, of all period instruments, made the most successful transition to contemporary music. This is largely due to the extraordinary writing of American composer Vincent Persichetti. Christopher D. Lewis demonstrates why Persichetti's music is so powerful, in his new release Persichetti Harpsichord Sonatas (Naxos 8.559843).
Five sonatas and the Serenade No.15 Op.161 sample the early period, mid-career and final year of the composer's life (1915-1987). The growth and development of his language for this instrument is subtle. Always leaning toward melody and strong rhythmic elements, Persichetti became, if anything, more focused and incisive in his expression. The Serenade in particular, offers a splendid example of how Lewis grasps the composer's idiom and conveys it convincingly. He's clearly having a great deal of fun playing this music and relishes the extent of the technical challenge as well as the lovely melodic moments that mark all of Persichetti's harpsichord works.
Well-programmed and wonderfully played, the disc delivers far more than a first glance might suggest. It reincarnates the harpsichord as a credible modern keyboard instrument.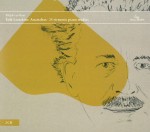 Ralph van Raat is a pianist with a very catholic taste in music. His affection for rock, jazz, atonal serial music, and everything between them is accurately reflected in his decision to record Erik Lotichius: Anaitalrax – 25 virtuosic studies (Solaire SOL 1005 2-CD). Lotichius (1929-2015) was born in the Netherlands and composed in a style that was a deep fusion of seemingly countless influences. Traditional European classical voices and numerous American ones appear consistently throughout his very tonal and rhythmically driven music. Jazz, ragtime, blues, Broadway, Bach, Bartók, Debussy and Ravel are easy to identify, but it's the amalgams that emerge as the unique voice of this little-known composer.
Van Raat performs these 25 studies as if they were meditations, sustaining the composer's mantra-like phrases and hypnotic rhythms to great effect. Lotichius is a master at capturing more than just your ear, he wants your emotional attention and knows how to get it. This 2CD set includes an extensive and enlightening biography of the composer as well as some engaging thoughts from both the performer and the recording's producer.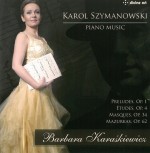 Barbara Karaskiewicz has compiled a fascinating program in her recording Karol Szymanowski Piano Music (Divine Art DDA 25151). It forms a survey of the composer's work covering nearly 40 years, beginning with Nine Preludes Op.1, written in 1900. The presence of Chopin is immediately detectable along with vocabulary reminiscent of some Brahms Intermezzi. There is a familiar fluidity and nostalgic ethos that pervades the music. Karaskiewicz plays these beautifully, bringing forward the composer's unique voice. The Four Etudes Op.4 reveal the influence of early modernism, with some careful tonal experimentation that Karaskiewicz integrates quite naturally into the character of the pieces.
Szymanowski's output is generally considered to fall into two periods, of which the second is strongly influenced by Eastern motifs and subject matter. The exotic elements of Scheherazade from Masques Op.34 take advantage of the angular melodies and dissonant harmonies of the period's emerging contemporary music.
Karaskiewicz's programming arch covers a considerable distance and concludes with Two Mazurkas Op.62 that reveal the fading but ever-present influence of Chopin in Szymanowski's music.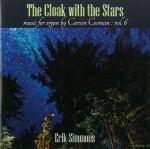 The Cloak with the Stars – Music for organ by Carson Cooman Vol.6 (Divine Art dda 25159) is a selection of works by this American composer and organist. Erik Simmons recorded several of the earlier volumes in this series and now enjoys an established reputation for a level of expertise with Cooman's repertoire. Simmons performs using the Hauptwerk system digital sampling technology, and data from the organ of the Abbey of Saint-Etienne, Caen, France. The instrument was built by Cavaille-Coll in 1882-85 and despite its age, is the newest of numerous organs that have been in the Abbey since its founding by William the Conqueror in 1066.
One of Cooman's strengths as a composer is his ability to use programmatic material. He remains free enough to create highly atmospheric works that deliver more of a feel about the subject matter than a linear storyline. Three St. Francis Legends is an excellent example. The disc's finest track, however, is Diptych for a New Life, a tribute to the life-giving imagery of the sun. Cooman's writing is colourful and highly effective.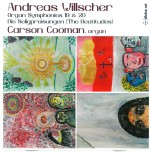 As an organist, Carson Cooman continues to add new recordings to his growing catalogue of "virtual" pipe organ performances. Andreas Willscher Organ Symphonies 19 & 20 (Divine Art dda 25162) is the latest and once again uses the increasingly ubiquitous Hauptwerk digital sampling system. The instrument captured on this recording is the 1868 Edmund Schulze in the Church of St. Bartholomew, Armley, Leeds, England. It's a substantial instrument of 55 stops over five divisions. Judging from the acoustic space heard in the recording, the church is large and suits the instrument perfectly. A curious piece of history recounts how the organ was originally placed in a building too small for its size and volume, lasting only a decade there before being sold and installed in its present location.
Cooman's program for this disc focuses on the work of German composer and organist Andreas Willscher (b.1955). His compositional language for the instrument is deeply traditional yet freely incorporates catchy contemporary rhythms along with carefully applied contemporary tonalities. The 1974 work Beatitudes is a remarkable piece for a then 19-year-old composer. The major works on the recording, the Symphonies 19 and 20, are both far bolder expressions. They also reflect Willscher's lifetime experience writing for the organ, learning to exploit its vast range of colours and dynamics.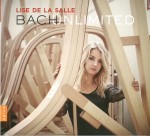 Lise De La Salle has recorded her ninth disc, Bach Unlimited (Naïve V5444). Two of her previous CDs have included some Bach, as does this new one. Despite its title, the only Bach work is the Italian Concerto in F Major BWV971 that opens the disc. It's a stunning performance; driven, flawlessly controlled, and fast. Really fast. The last movement just leaves you shaking your head.
To underscore the impact Bach's music has had on her piano career, De La Salle performs several well-known works that use a B-A-C-H motif (B-flat, A, C, B) by Liszt, Poulenc and contemporary composer Thomas Enhco. She also includes Busoni's transcription of the Chaconne in D Minor BWV1004 and Albert Roussel's Prélude and Fugue Op.46. Enhco has, however, written several works based on Bach's Chaconne, the Italian Concerto and Goldberg Variations, and De La Salle includes all of these in her performance program.
It's an eclectic approach that works well under De La Salle's hands. She's a powerful player, versatile and completely in command of whatever repertoire she performs.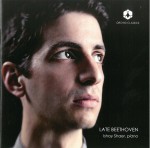 Ishay Shaer has recorded his second CD in what should be the beginning of a very promising career. Late Beethoven (Orchid Classics ORC 10076) includes the Sonatas No.28 in A Major Op.101 and No.30 in E Major Op.109 along with the Bagatelles of Opp.126 and 119. Beethoven was never overly impressed with what he felt the Bagatelles had to offer, but we see them more charitably today and Shaer has a way of rendering them that advances our own desire to know Beethoven better.
The real impact of this disc is in the exceptional and sensitive performance that Shaer brings to the two sonatas. He plays from inside the works with profound affection. Both sonatas have a great deal of introspective opportunity and Shaer never misses the chance to explore a little deeper. He seems to have a vision of a vulnerable Beethoven we seldom see.
Shaer's command of the powerful, explosive passages is entirely convincing. But perhaps his choice of these two sonatas, very much alike in their emotional content, says more about where this young pianist has the capability to go.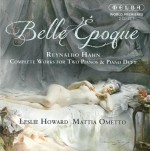 Leslie Howard and Mattia Ometto collaborate as duo pianists in Belle Epoque Reynaldo Hahn – Complete Works for two pianos and piano duet (Melba MR 301148-49). Howard steps away from his lifetime role a solo pianist to play Hahn's repertoire for two pianos and piano four hands. His performance partner Mattia Ometto carries impeccable credentials and the pair have created a splendid two-disc set that opens with Douze Valses à deux pianos. These are pure period works just fizzing with ballroom champagne. The duo next move into more serious repertoire, some of which Hahn wrote before the turn of the century. The loveliness of Hahn's writing makes an immediate impact, especially in Scherzo lent pour deux pianos. Disc 2 continues with ever more thoughtful writing and performance. The set includes three world premiere recordings of Hahn's work.
As piano duos go, great value is placed on the merger of two artists into a larger entity that becomes the duo. While this is obviously true in the case of Howard and Ometto, there is, nevertheless, a wonderful element of individualism at work in this pair. It's most evident when they're each at their own keyboard and it breathes a fresh creative spark into their playing.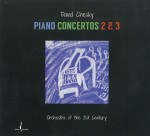 David Chesky is a prolific composer with nearly a hundred works to his credit. He has written for every conceivable classical form and has made his reputation by doing it in studio with the aid of the latest technology, especially in his large-scale compositions. This recording, David Chesky Piano Concertos 2 & 3 - Orchestra of the 21st Century (Chesky Records JD404), is his remarkable foray into the piano concerto form. Inspired by the chaos of New York City, the concertos are extremely high-energy works written and played at an impressive level of excellence.
Composer/pianist Chesky's style is a fusion of the many influences in his creative life. It's all there: classical music, rock, jazz, Latin strains, traffic chaos, etc. The elements are beautifully conceived and drawn into a contemporary tapestry that incorporates many familiar threads. The result is a music that is at once recognizable yet exhilaratingly modern.
Chesky's ability as composer, orchestrator, performer and producer are remarkable. It's an incredible disc that makes a lasting impression.