Review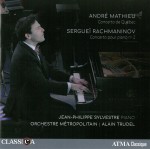 Jean-Philipe Sylvestre is the recipient of many prestigious Canadian and international piano performance awards. His new recording André Mathieu – Concert de Québec, Sergei Rachmaninov Piano Concerto No.2; Orchestre Métropolitain, Alain Trudel (ATMA ACD2 2763) is an important document for several reasons. It presents this extraordinary artist in an impressive light, revealing his technical power and profound musicality.
It also brings back to the Canadian recording marketplace the rare music of a young 13-year-old André Mathieu, trapped with his family in North America by the outbreak of the Second World War. The simple version of the story is that the young Canadian composer won the New York Philharmonic's Composer Competition celebrating the orchestra's centennial. His subsequent work fared less well, but his Piano Concerto No.3, written in 1942-43 and eventually renamed Concert de Québec so as to work better as a film score, is now winning renewed admiration. The score used for this recording is deemed fairly complete and authentic, based on the original score for two pianos. Still, a definitive final version is currently underway and is promised for a couple of years hence.
There's no mistaking the affinity Mathieu's music has with Rachmaninov's. Mathieu's mother long cherished and promoted the undocumented notion that Rachmaninov had seen young Mathieu's scores in Paris and responded flatteringly to them. True or not, this music restores a creative work that brought musical life to an early French Canadian film. It's big, gorgeous and so very Hollywood. Sylvestre and Trudel have produced a superb disc!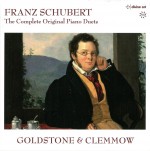 The Goldstone & Clemmow piano duo have been performing together for more than 30 years. Their latest, and sadly final, release is Franz Schubert – The Complete Original Piano Duets (Divine Art dda 21701 divineartrecords.com). Anthony Goldstone passed away just as the packaging details of the current recording were being finalized. These two pianists created a remarkable four-hands keyboard presence. Unity was the hallmark of their playing. They shared every nuance of the music without hesitation, as though a single mind controlled all four hands.
Their playing has been utter perfection, with a pianistically Zen oneness to all articulation, dynamics and phrasing. It always takes a few minutes of wonder at the technical beauty of their performance before you can relax into what the composer has actually intended to say. All the more reason to laud this substantial seven-CD set as the pinnacle of their lifetime's work.
Rather than organize the recording by genre or chronology, the duo has taken the complete Schubert piano duo repertoire and created seven recital programs, balancing key relationships, moods and artistic weight. The result is a wonderfully listenable collection that also includes a Schumann Polonaise for piano four hands, at the end of each recital disc. These date from 1828 and are believed to have been inspired by Schubert's piano duets – a fitting match.
It's a beautiful set, brilliantly assembled and as inspired as anything they have ever done. Goldstone & Clemmow's final recording project is definitely an item to collect.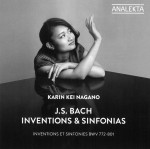 Karin Kei Nagano is the daughter of the conductor Kent Nagano and concert pianist Mari Kodama. Her debut solo recording J.S. Bach Inventions & Sinfonias BWV 772-801 (Analekta AN 2 8771) presents a favourite and meaningful repertoire choice from her early piano studies.
The story is well known, of how Bach intended these two- and three-part exercises to teach his students the fundamentals of keyboard playing and composition. Equally important for him was that his pupils develop a true lyrical style to their playing. For Nagano, the connection to these early studies is their beautiful melodic potential. Whether Bach uses a short motif or a longer idea, Nagano is seized by the possibilities they offer. Consequently her playing goes far beyond meeting the technical requirements of counterpoint lessons and reaches for the beauty of what only a creative mind such as Bach's could have placed there.
Nagano's playing reveals a level of care and consideration that directs her inquiry into the pursuit of the art before the form, as if somehow the latter will look after itself. This characteristic is more evident in her treatment of the three-part Sinfonias, where the material is richer and offers a greater reward for the player's attention to it.
Now embarking on her 20s, Nagano is off to Yale in pursuit of medical studies. Let's hope this recording whets her appetite to do more before too long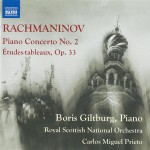 Boris Giltburg is a profound thinker and an original artist. His new CD Rachmaninov Piano Concerto No.2, Études-tableaux, Op.33, Royal Scottish National Orchestra Carlos Miguel Prieto (Naxos 8.573629) proves it, once again.
Giltburg's performance of the Rachmaninov Piano Concerto No.2 demonstrates just how maniacally frenetic the opening movement can be. This kind of barely constrained raw energy has no match. It's far more intense than it is fast, and it leaves a lasting impression. His approach to the second movement sets the expressive limits further apart than usual. The quiet moments, either solo or with a few wind players, are powerfully intimate. But he also injects a few surprising intensifications in unexpected places, consisting of a single line in the right hand. The effect is arresting.
The orchestra (RSNO) needs a laudatory remark here too. The guilty pleasure of smaller size is worth the indulgence; it lets us hear so much at a personal level. Closer recording gives us subtle sounds of bows, fingerboards and occasional wind keys. And then there's the stunningly good horn section. Giltburg writes a little in his wonderful recording notes about the challenges of playing the Rachmaninov Concerto No.2. He cites examples of regular acoustic problems that challenge every performance and how they resolve them. It's a brief but informative look into the dark art of recording.
The disc also includes the Études-tableaux, Op.33. Giltburg has included the missing three pieces that Rachmaninov mysteriously withdrew just before publication in 1914. The CD closes with a couple of Viennese flavoured tunes, of which the Kreisler Liebesleid is best the known.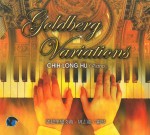 The Goldberg Variations should always be a memorable experience. To that end, performers have, to be sure, taken some wildly differing approaches to them. In Goldberg Variations (Blue Griffon BGR423 bluegriffin.com), pianist Chih-Long Hu has chosen to be rather laissez-faire in his treatment, believing that the music benefits most when left largely as is. It's certainly a legitimate approach and based on the results, a highly credible one.
This is a very contained performance. Hu is quite deliberate in adhering to the page and minimizing personally expressive deviations from the Baroque nature of the music. His most expressive playing occurs in the bookend Arias. Everything between them remains within these limits. His imposed discipline allows for interesting things to emerge. There is an immediate transparency of the forms Bach uses, a vision of both the near and the distant at the same time. Patterns begin to reveal themselves. The awareness of architecture emerges on its own without overt assistance. It's as if Hu were an alchemist assembling elements and applying the incantation from the keyboard. After that, it just begins to happen on its own – a kind of musical chain reaction
I suspect what happens is that the ear adjusts to listening without familiar Romantic allusions to things, and suddenly new truths reveal themselves. In that vein, Hu's own composition Afterthoughts on Bach's Goldberg Variations, included as a bonus, is a complete table-turner. It's his take on how the Goldberg Variations bass line might be treated by Mozart, Schumann, Bolcom and even as a deep Southern blues. It's clever and brilliant, and sheds a revealing light on this gifted Taiwanese pianist.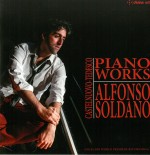 Alfonso Soldano is the new champion for the music of Castelnuovo-Tedesco. In Mario Castelnuovo-Tedesco – Piano Works (Divine Art dda 25152 divineartrecords.com), the young Italian pianist has expressed a deep urge to understand this composer of an earlier generation.
Transplanted from Italy to 1940s America, Castelnuovo-Tedesco ended up in the burgeoning music-film industry, where composers were churning out tunes daily under production-line expectations. Still, he never let go of the unique flavour that marks his writing. He always favoured the modernists and held a high regard for the French impressionists. Alt Wien Op.30 and Cantico Op.19 both make this very clear. Soldano captures the wisps of Ravel and Debussy that Castelnuovo-Tedesco threads through his work. The Sonata Zoologica Op.187 is uncannily similar in spirit to Saint-Saëns' Carnival of the Animals. It's a brilliant character piece, very demanding, and Soldano plays it with an inner knowledge of exactly where the composer intended it to go.
The most substantial piece in the disc's program is Rapsodia Napolitana, Op.32. It's a five-movement work highly charged with direct but complex allusions to the place of its title. Landscapes, feeling, winds, emotions and otherworldly things drift across the pages of this remarkable piece. Soldano is very at home with this repertoire, revealing a connection far beyond what academic understanding alone can forge.
It's a real pleasure to hear this music presented by an artist who clearly believes in its revival, and who perhaps would enshrine more deeply the reputation of this composer as a national treasure.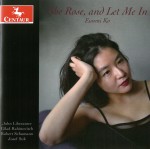 Pianist Eunmi Ko has released a new CD, She Rose, and Let Me In (Centaur CRC 3491 eunmiko.com), that offers a compelling program of contrasting repertoire. A pair of contemporary works balances the rarely heard Suk O Matince and the better-known Schumann Phantasie, Op.17. In this latter piece, Ko performs the final movement exquisitely. Schumann had intended the work to help with the fundraising for Beethoven's memorial monument. After numerous refusals by publishers, the dedication was eventually changed to Franz Liszt. Still, the story helps explain the grandness of the work's conception as well as the breadth and depth of sadness that pervades the final movement that Ko captures so unerringly.
John Liberatore's title piece She Rose, and Let Me In is a set of variations and a fugue on the Scottish tune of that name. Liberatore explains his impulse to explore the intersections of the ancient and the modern. To do so effectively, he withholds the thematic material until the final movement. Consequently, listening becomes a guessing game in which you're never quite sure if you've heard the old Scottish tune or not, or even a fragment of it.
Gilad Rabinovitch's …star dazzling me, live and elate… is an extended series of very dense chords, mostly harmonic rather than clustered masses, that builds to a remarkably rich and dark finish. It's technically demanding and Ko demonstrates both the stamina and intellect to perform it with conviction.