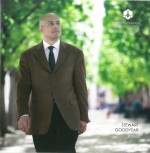 Stewart Goodyear's newest recording, Ravel – Stewart Goodyear (Orchid Classics ORC 100061) is the product of a lifelong affection for Ravel's music that began at age five. Goodyear admits that it has taken a long time to immerse himself in the composer's works and reach a point where he was ready to begin recording his music. He plans, in fact, to record all of Ravel's works for piano.
What Goodyear demonstrates at the keyboard is that he is willing to take his time playing this music. It's not so much a slower pace than a willingness to open the breathing spaces much wider than many pianists do. These suspended moments of time cumulatively lift the music to an ethereal state where Ravel's impressionistic figures, the arpeggios and chordal clusters, are perceived more as emotion than sound. Oiseaux tristes and La vallée des cloches are powerful examples of this Goodyear effect.
Goodyear also reveals an innate ability to home in on a melody. Ravel makes this fairly straightforward, sometimes just having it played in simple octaves. But Goodyear has a way of drawing the notes out of the swirling harmonies that sets them within easy reach of the ear. It's a matter of touch – and Ravel's keyboard language requires absolute mastery of the technique.
Scarbo, from Gaspard de la nuit, is the dark and somewhat maniacal side of Ravel's work. Here too, Goodyear proves his technical control is never outrun by the demands of the music.
If Goodyear's intention to record all the Ravel piano works comes to fruition, there will be something wonderful to anticipate.
Review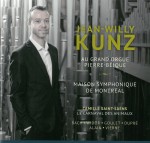 Jean-Willy Kunz is the first organist in residence of the Orchestre Symphonique de Montréal. His debut solo recording Jean-Willy Kunz au grand orgue Pierre-Béique (ATMA ACD2 2747) contains the requisite Toccatas along with some skillfully chosen works that make this recording thoroughly entertaining.
Among the standards in the list is the Toccata from Widor's Organ Symphony No.5. For the sake of acoustic clarity, Kunz takes this at a slightly slower pace than is often heard, so the piece comes across cleanly but still powerfully. Vierne's Carillon de Westminster Op.54, No.6 builds beautifully to a towering and thrilling finish. Another impressive work is Maxime Goulet's Citius, altius, fortius! in which Kunz showcases the organ's solo and chorus reeds, and mixtures.
The CD's highlight is Kunz's own arrangement of Saint-Saëns Le Carnival des animaux. The colouristic potential of this symphonically planned concert instrument is exploited in each of the 15 movements. L'Éléphant, appropriately portrayed by the deepest register pedal pipes, will shake your speakers, while Le Coucou au fond des bois uses a small reed stop to sound the familiar two-note call.
It's an excellent recording with perfect repertoire choices and brilliant playing.
Organist Erik Simmons has recorded seven CDs by American composer and organist Carson Cooman. The latest, Exordium – Music for Organ by Carson Cooman (Divine Art dda 25154) is a wide selection of Cooman's works designed to showcase the main organ of the Cathédral Notre-Dame de Saint-Omer in northern France. The recording uses the Hauptwerk system, which digitally records the instrument note by note, storing the data in a sound library from which a performance and recording can be made anywhere, rather than in the confines of the church. The authenticity of this recording technology is impressive, creating a final product that is indistinguishable from a recording made in the original venue.
The original organ in the cathedral dates from 1717 and underwent a major restoration in the mid-19th century. Its casework is renowned as one of the most beautiful in Europe.
Many of the works on this recording use the highly coloured smaller stops or combinations of them to demonstrate the intimacy of such a large instrument. Small solo reeds and flutes are richly coloured and beautifully carry the solo melodies.
By contrast, the big divisions set close to full organ are magnificent as shown in the opening track Exordium and again in the closing selection, a fantasy on Veni Creator Spiritus. Cooman's works are skillfully written with a contemporary harmonic sensibility that always yields to the melody. Simmons understands this and faithfully brings this great Baroque instrument into the service of a 21st-century composer.
Review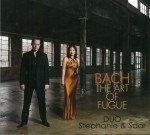 Duo Stephanie & Saar have taken a novel approach to their latest recording project Bach – The Art of the Fugue, BWV 1080 (New Focus Recordings FCR181). Taking advantage of their duo nature, they perform some selections as four hands, some as two pianos and the simpler two-voice canons as solos.
The sheer weight of the genius behind the music makes focusing on any other aspect of the performance nearly impossible. As one of Bach's final utterances, unfinished at that, it reveals the ability of this composer to think about musical development forwards, backwards, inverted, expanded and contracted, and most often in some combination of these.
In this respect the work is very much like the Goldberg Variations, where a good performance quickly yields to the content of the music while the performer is lost to the larger presence of the art form.
The Duo Stephanie & Saar (their first names) are highly disciplined and always turn their skills to the contrapuntal possibilities Bach has laid out in the score, regardless of whether it's for two voices or four. They keep expression to a polite minimum, revealing the beauty of the growing complexity in the larger fugues.
The two-disc set is one you know you'll play many times, waiting to find newly revealed truths.
A new video release, Kit Armstrong performs Bach's Goldberg Variations and its predecessors (Unitel 741608), is a must-watch for Goldberg fans. Armstrong performs live at the Concertgebouw, Amsterdam and plays a lengthy program that includes some stylistically related works by Byrd, Sweelinck and John Bull's Thirty Variations on the theme "Walsingham." It's clear at this point that Armstrong is brilliant at his period ornamentation. His trills are fast and tirelessly perfect.
Once into the Bach Goldberg Variations, after the opening aria, there's no doubt that Armstrong is going to play this his way – unhurriedly. The first variation comes as a surprise in its deliberate, more relaxed speed. But what emerges at the same time is Armstrong's knack for boldly pulling out melodies from the left hand, especially where the hands cross over. It's intriguing to hear lines more familiar in the background come to the fore this way.
Armstrong is also fairly free with his rubato and sometimes applies it only in one hand, while the other moves ahead hoping its partner will catch up. It's a thoroughly pianistic approach that impresses the audience, whose attention never wavers for a moment.
The final aria is quiet and powerfully intense as Armstrong completes it pianissimo, with a lengthy ritard holding the crowd breathless until he rises from the keyboard.
Nicholas Susi has just released his first recording Scarlatti Now (nicholas-susi.com), with a clever program that mixes eight Scarlatti Sonatas with Rossini, Ravel, Berio and Liszt. Susi claims that Italy is the country that gave birth to the piano then promptly turned its back on it, leaving us with a solid Germanic tradition to our keyboard thinking. His intention is to underscore the connections between Scarlatti's keyboard style and later works, arguing that Scarlatti's sonatas had invited future composers to think about the keyboard in ways he had already begun to explore. He describes the elements of Scarlatti's keyboard style as "the wiry, the spastic, the risky" but he also admires them for their "variety, quirkiness and downright catchiness."
Scarlatti's runs, ubiquitous ornaments and often rapid-fire note repetitions are familiar elements of his writing. Susi finds these in the chatter of Figaro's Cavatina from Rossini's The Barber of Seville, the fluid writing of Ravel's Une barque sur l'océan and Liszt's transcription of Rossini's La danza.
Susi is a gifted technician who executes the myriad ornaments in the sonatas with crispness and ease. The clarity of his playing is a delight to hear. His transitions to contemporary works by Berio and Sciarrino are not as difficult as they might promise in the track listing. He is an innovative musician and aggressive thinker with a gift for keyboard brilliance. With a freshly minted doctorate of music under his belt, he now needs to appear on a major label.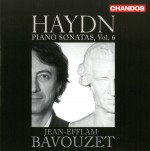 With Haydn – Piano Sonatas, Vol.6 (Chandos 10942), Jean Efflam-Bavouzet has now neared the halfway point in his project to record all the Haydn piano sonatas. Clearly not intent on doing this in chronological order, Bavouzet is programming his discs for artistic interest and balance.
This disc contains five sonatas, all in major keys. The earliest is the Sonata No.11 (Hob.XVI:2) from sometime around 1760. At this point, the keyboard sonata is still in its early evolutionary form and has far more in common with its Baroque harpsichord antecedents than anything that followed. The changes in Haydn's works are subtle and occur slowly over many years. Bavouzet follows this early work with the latest one, Sonata No.43 (Hob.XVI:28) where the final movement provides the best contrast for showing how Haydn's thinking became more complex.
Prior to this recording project, Bavouzet finished the complete cycle of the Beethoven sonatas. He describes his renewed appreciation of Haydn's considerably shorter thematic ideas than those of Beethoven and points out the impact this had on his approach to the music. His touch is light and articulation is impeccable. Lightly pedaled, if at all, the voice parts are clear and the sparse harmonies are completely transparent.
Because Haydn gave almost no performance indications in his scores, Bavouzet takes great freedom in applying tempi and dynamics. His choices are carefully considered and a mark of both his artistry and scholarship. Like its predecessors, Volume 6 is consistently excellent throughout.
Pål Eide has chosen a perfect title for his recording Grey Clouds (CDKlassisk cdk 1143). He contrasts the melancholy of twilight in works by Liszt and Debussy against even darker forebodings in the music of Stravinsky and Ravel. His playing is deeply personal and anything but grey.
Beginning with Liszt's two similarly titled works La lugubre gondola, Eide sets a stage where the ambiguity of twilight becomes a surprisingly peaceful experience. He expands this through Debussy's Reflets dans l'eau, La cathédrale engloutie and Claire de lune.
The contrast of threatening darkness comes from Ravel's Gaspard de la nuit. Le gibet is especially haunting, with its repeating note emerging from Ravel's clustered harmonies.
Eide moves his program back toward the twilight with Stravinsky's Three Pieces from Petrouchka. His measured approach, if slower than most performances, gives both Danse russe and La semaine grasse an ominous weight. As if to place an "amen" at the end of his recording, Eide gives an exquisite performance of Liszt's Consolation No.3.
It's a thoughtful and effective program, beautifully played. Eide has made just two recordings but his abilities suggest he should do more.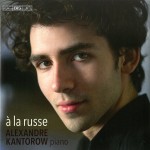 Alexandre Kantorow looks knowingly from the cover of his new recording À la russe (BIS 2150) as if to invite listeners into the world of the Russian soul. Here, things are dimly lit, especially where Rachmaninoff is concerned. His Piano Sonata No.1 in D Minor Op.28 is a study in high dynamic contrast in the outer movements and deep introspection in the middle movement. Kantorow is obviously at home with this music and what he projects from the keyboard is powerfully seductive.
The tenderness of Kantorow's performance of two excerpts from Tchaikovsky's 18 Morceaux Op.72 would be difficult to match. It's heartbreakingly hesitant and vulnerable. The composer's Scherzo à la Russe is equally remarkable, though for different reasons. Here, Kantorow is virtuosic master of the great and the small. The power of his playing in the final measures echoes the dynamism and strength of his execution in the three excerpts of Stravinsky's L'Oiseaux de Feu. This 1928 piano transcription is relentless in its technical demands. Undaunted, Kantorow delivers a blazing performance of the Danse infernale and the Finale.
Balakirev's Islamey Op.18 concludes the disc with another virtuosic display of impossibly quick repetitions separated by stretches of languorous repose. Kantorow is a superb colourist who possesses a technique capable of anything these Russian composers have required. This super audio CD is pure pleasure from start to finish.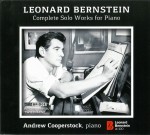 In anticipation of the centenary of Leonard Bernstein's birth in 1918, Andrew Cooperstock has released Leonard Bernstein – Complete Solo Works for Piano (Bridge 948 SA/B). The two-disc set is a comprehensive collection of keyboard compositions and arrangements spanning Bernstein's career. It contains the first recording of the complete Bridal Suite for piano four hands. Disc one presents all 29 of the Anniversaries he composed for his friends and family. The dedicatees include his daughter Nina, Serge and Nathalie Koussevitsky, Lukas Foss, Stephen Sondheim and many others. Cooperstock does a splendid job in capturing the deeply personal and affectionate tribute that each of these portrays.
Disc two contains the balance of the Bernstein piano repertoire. Four Sabras, rarely heard, are particularly entertaining for the colourful characters with which he imbues each one. Cooperstock excels in the piano arrangement of Aaron Copland's El Salón México. Fully in control of the piece's technical demands, he captures the work's fiery spirit, bringing it to a powerful and frenzied conclusion.
Cooperstock takes advantage of studio technology to play both piano parts of the Bridal Suite. It's a collection of short, witty pieces that he performs with obvious relish and good humour.
The Leonard Bernstein at 100 project is a timely and instructive look at a musical giant through his work at the keyboard.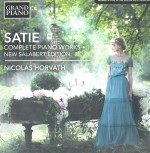 Nicolas Horvath has released the first volume in his latest project, Satie – Complete Piano Works 1 (Grand Piano GP 761). His project takes advantage of the newest and most extensively corrected edition of Satie's piano music by Salabert (Milan). Horvath has also chosen to record the repertoire up to 1897 on Cosima Wagner's 1881 Erard, in an effort to create the kind of piano sound that Satie would have known and expected. The CD program includes two world premiere recordings of short works and nine others from the newly revised edition.
The notes to this CD contain some very fine historical autobiographical material that reminds the reader of how extraordinary Satie was. His music is never really contrapuntal or even impressionistic. He establishes an atmosphere of mysticism with pulsating chords against melodies that feel modal and something akin to Asian or Middle Eastern.
Horvath does a splendid job in presenting this unusual repertoire. The four Ogives are almost entirely vertical and hymn-like in their replication of plainchant. Said to have been inspired by the Gothic arches of a neighbouring church, these are perhaps unlike most of Satie's other music. There's also a fascinating, if short, monodic piece titled Leit-Motiv du "Panthée". Chanson hongroise is barely more than half a minute but contains curious and tantalizing touches of Bartók.
With volumes two and three already designed and ready for release soon, Satie collectors will be eager to snap them from the shelves when they appear.