Review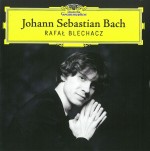 Words fail spectacularly in trying to describe Rafal Blechacz's performance on Johann Sebastian Bach (Deutsche Grammophon 479 5534). Playing Bach demands rigour, stamina, discipline. It also requires a profound intellectual grasp of Bach's contrapuntal intentions. Critical too, is an innate ability to draw from Bach's writing that unique idea that can be credibly shared by composer and performer as jointly original. In some speechlessly wondrous way, that happens on this disc.
The Partitas Nos.1 in B-flat Major and 3 in A Minor are the familiar collection of Baroque dances. They are, however, raised to a remarkable standard of exhilarating technical display, framed by tasteful expression. Blechacz plays them with emotional vulnerability and unmatched lyricism. Each set concludes with a memorably blazing Gigue.
Blechacz plays the Italian Concerto in F Major BWV 971 at a sustained speed that hasn't been matched since Alexis Weissenberg broke the sound barrier with his recording in the mid 1960'. Still, there is striking clarity throughout the first and third movements that offers every opportunity to discern the inner counter melodies racing past each other to the final measure.
The Fantasia and Fugue in A Minor BWV 944 offers an unbelievably long and complex fugal subject that cascades through its development section with ease under Blechacz's hands. He ends the disc with a rapturous performance of Jesu, Joy of Man's Desiring – Dame Myra Hess' arrangement.
Blechacz was the winner of the 15th International Chopin Piano Competition. This is his sixth recording for Deutsche Grammophon in addition to a handful of others. You might as well start collecting them now.
Review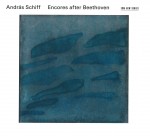 Andras Schiff presented his cycle of the 32 Beethoven sonatas at the Zürich Tonhalle from 2004 to 2006. His choice of encore after each concert was quite deliberate and they have now been compiled into Encores after Beethoven (ECM New Series 1950 B0025872-02).
Schiff sought to link the encore in some musical way to the sonatas he'd played on the program that night. These live recordings document his choices. Although now separated from their original context, they still carry a residual connection to the music that preceded them, and Schiff uses his notes as a brief outline to explain these relationships.
The opening selections by Schubert, from Three Piano Pieces D946 and Allegretto in C Minor D915 are linked by a strong conceptual kinship to Beethoven's Sonatas Op.2 and Op.7 as well as Op.10 and Op.13. The Mozart encore Eine Kleine Gigue in G Major K574 is a humourous study in fugal form like the finale of Beethoven's Sonata Op.10 No.2 on that evening's program.
Beethoven had originally intended the Andante Favori in F Major WoO57 to be the second movement of the Waldstein Sonata Op. 53, before eventually setting it aside. Schiff used it as the encore for his performance of the Waldstein.
The final movement of the Hammerklavier is an enormous fugue, understood to reflect Beethoven's admiration for Bach and his evolution of the form. Schiff's choice of encore for that performance was Bach's Prelude and Fugue in B Flat Minor BWV867.
The encores are presented on the disc in the date sequence of their performance and show the program information that preceded them. The Zurich audiences listen in rapt silence and reveal themselves only to applaud enthusiastically.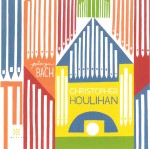 Organ music fans have another CD to add to their collections with Christopher Houlihan Plays Bach (Azica ACD-71314). The instrument is always a critical ingredient in these projects and the Austin organ at Trinity College Chapel in Hartford, Connecticut, provides ample reason to pay attention.
Organist Christopher Houlihan puts plenty of familiar Bach toccatas, preludes and fugues into his program, but what begins to emerge only moments into the performance is how brilliant a colourist Houlihan is. The instrument offers an enormous selection of reeds, strings and beautifully mellow flues. It's built and voiced to provide the greatest possible dynamic range for the building it occupies.
Houlihan's clever choice of stops is nowhere more impressive than in his own arrangement of the Italian Concerto BWV971. It's playful, celebratory and sparkles with colour. Every track on this CD takes advantage of this remarkable instrument and its gifted performer.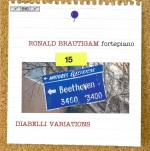 Beethoven's exhaustive treatise on the variation form that we know as the Diabelli Variations Op.120 is the heart of Ronald Brautigam's latest recording Beethoven – Diabelli Variations Ronald Brautigam (fortepiano) (BIS-1943). The disc is the final production in Brautigam's complete set of Beethoven's works for solo piano, performed on fortepiano.
This alone would suffice to set it apart for special attention. An added feature, however, is its recording on a modern fortepiano modelled on an instrument built by Conrad Graf in 1822. We know that Beethoven admired Graf's fortepianos and eventually came to own one himself. One of Graf's unique features was his quadruple stringing of notes, giving added volume and power to the sound – though it must have been a tuning nightmare. The copy used in this recording demonstrates a wide dynamic range and an impressive responsiveness to touch, not only for dynamic expression but in clarity of strike, release and repeat in the very fast passages.
Brautigam concludes the disc with the Six National Airs with Variations Op.105. This is just one of several such sets Beethoven wrote for British publisher George Thomson. The relationship with Thomson helped spark some interest in folk-songs which Beethoven pursued in 15 further sets. The tunes in this one are Welsh, Irish, Scottish and Austrian. Best known among them is The Last Rose of Summer.
The disc is another of the outstanding recordings by Brautigam, produced in a career-long devotion to performance on original instruments that includes the complete keyboard works of Mozart and Haydn.
Review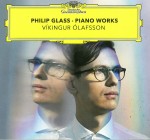 Mid-30s Icelandic pianist Vikingur Olafsson is a Juilliard graduate and a busy concert performer with a passion for contemporary music. His acquaintance with Philip Glass makes for fascinating reading in the liner notes of his new recording, Philip Glass – Piano Works (Deutsche Grammophon 479 6918).
The recording is largely devoted to 11 of the 20 Études that Glass wrote between 1999 and 2012. Olafsson plays them from a personal place of detachment but with all the subtlety and nuance they require. His performance of the final Étude No.20 is striking for its otherworldly feel. He relates the story of asking Glass how this one étude came to be so different and how the composer answered that he didn't know, he just somehow found himself out in space.
The disc also includes the now well-known Opening from Glassworks as its first track. The same piece appears again as the final track, but reworked for piano and string quartet. It's a very satisfying comparison. The reworked version comes across with richer sonority, and with the piano taking on a much lesser role than might be expected.
Olafsson has produced a very fine performance in a field growing ever more populous. The calibre of his playing assures he will always stand out.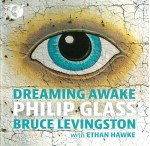 Bruce Levingston is a widely recognized interpreter of Philip Glass' music. His new 2CD set Dreaming Awake – Philip Glass – Bruce Levingston (Sono Luminus DSL-92205) contains a superbly planned program. Covering a period from 1966 to 2005 the music presents, among others things, an overview of how Glass' music has evolved.
The earliest work is Wichita Vortex Sutra played by Levingston and narrated by actor Ethan Hawke. Written by poet Allen Ginsberg during the years of the Vietnam War protests, it and the music speak jointly to the injustice of the war and a universal call for peace. It's a work that reveals more of itself on repeated listening.
Much of the two discs is devoted to ten of Glass' 20 Études. Written primarily for his personal keyboard practice, they each contain a handful of specific technical challenges. It's not surprising though that Levingston immediately seizes upon the composer's creative germ in each of them, and sets them on the creative plane Glass must have intended from the outset.
Levingston gives a rich and colourful performance of the enigmatic, Buddhist-inspired Dreaming Awake. It's an active work of frequent movement between places of intense feeling and moments of great repose. His playing reveals a deep understanding of the music and its composer.
Compositions for film make up a large part of Glass' oeuvre. While Metamorphosis No.2 is a frequently recorded work, it is also quoted in the soundtrack of The Thin Blue Line. The Illusionist Suite offers another example of his remarkable writing for the screen.
Levingston is a master in this genre, with complete interpretive access to Glass' work, whether originating in poetic protest or the cinema, whether written for study or meditation.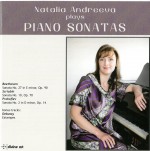 An eclectic combination of piano works appears on Natalia Andreeva plays Piano Sonatas – Beethoven, Scriabin, Prokofiev (Divine Art dda 25140). Andreeva is a gifted performer, researcher and teacher. Her program choices are deliberate, balanced and artful. Her approach is methodical, yet inspired. For example, Beethoven's directions in Sonata No.27 in E Minor Op.90 call for the pianist to play with "liveliness, sensitivity and expression." Andreeva lets these instructions guide her through a beautifully considered performance of this two-movement work. She takes an especially Romantic posture in the second movement, arguing in her notes that Beethoven always wrote with pictures in his mind. Whatever image emerges from this movement is, according to Andreeva, bound to be one of love. Andreeva builds her phrases with care and balance. Their shape and motion in this sonata are elegant and very often quite exquisite.
Andreeva takes her research seriously, looking for interpretive clues in diaries, letters and other original sources. In the case of the Scriabin Sonata No.10 Op.70, her sleuthing has convinced her that the key to this work's content is the composer's notation "radieux" in the score. For Andreeva this single-movement sonata is about light. Consequently, the delicate upper filigree and frequent trills become important textures in the mood Scriabin wants to establish. Andreeva delivers a masterful performance of this 1913 Russian work.
Prokofiev's Sonata No.2 in D Minor Op.14 is an early work in his series of nine sonatas and dates from almost the same time as the Scriabin. Andreeva's approach to this underscores the principal traits of Prokofiev's creative personality: harmonic adventurism, rhythmic drive, playful grotesqueness and classicism. Each movement becomes a stage for these elements as Andreeva constructs a complex picture of Prokofiev's musical world.
Andreeva is a deeply thoughtful artist and definitely worth hearing.