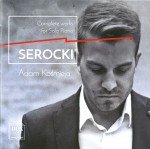 Adam Kośmieja
plays a remarkable contemporary program in his recording
Serocki – Complete works for solo piano (Dux 1284)
. The music of Kazimierz Serocki (1922-1981) is regrettably unfamiliar to most North American audiences. Its uniqueness lies in his 12-tone style. Serocki demonstrates a strong affinity for rhythm and texture as the key drivers in his music. Whether he's drawing out a languorous elegy or spinning a feverish virtuosic passage, he writes for clarity using very little pedal and favouring generous application of staccato. On rare occasions he will seem impressionistic and reveal the French influences he absorbed as a student in Paris. More curious and delightful is the unmistakable, if subtle, flavour of something that is teasingly Broadway and flirts with jazz.
Pianist Adam Kośmieja does an extraordinary job of playing this music. He obviously has a deep understanding of what Serocki is saying and how he means it to be said. Kośmieja's ability to meet the widely different interpretive demands of the music is impressive. He lists, among his teachers, names like Gary Grafman, Paul Badura-Skoda, Ivan Moravec, Lang Lang and numerous others.
The Sonata for Piano has two wonderfully maniacal movements, veloce and barbaro, that contrast sharply with the other two inquietamente and elegiaco. It's a substantial work, rich in variety and it's exceptionally well-played.
The Gnomes: Childrens' Miniatures is fascinating for its simplicity as repertoire for children yet intriguing for the way it introduces them to the 12-tone system through the strategic placement of gentle dissonances. The disc is a wonderful issue from Polish Radio.
Ukrainian-born pianist Irena Portenko has conceived a yin-yang study of contrasting concertos that may have more in common with each other than meets the ear. Her new release Versus: Prokofiev Piano Concerto No.2; Tchaikovsky Piano Concerto No.1; Ukrainian National Symphony Orchestra; Volodymyr Sirenko (Blue Griffin Recording BGR417) opens with an intense performance of the Prokofiev Concerto No.2. Actually, there's no other way to play it. It's dramatic, dark and relentless.
Prokofiev's first few performances met with uneven success. He cites generally better public acceptance with each performance, but it was a rocky start. The work was, for 1913, a challenging audience experience. Dense and replete with rhythmic and melodic complexities, it left first-time listeners dealing mainly with the heavy emotional experience. Stravinsky, however, was impressed. Diaghilev, too, was complimentary and reportedly invited Prokofiev to play it as a stage production while dancers moved around him on the stage. Curiously the third movement has the feel of Prokofiev's Romeo and Juliet with the strong bass pulse that drives the dance, Montagues and Capulets.
The writing is undeniably brilliant and is matched by the performance. Portenko is satisfyingly at home with this music, meeting its technical and interpretive challenges with confidence and style. She brings the same energy to the Tchaikovsky Concerto No.1 in B-flat Minor Op.23. It too, is grand and relentless. Although she is very clear in her notes that she sees this as the counterbalance of light and positive energy to the Prokofiev. Noteworthy in this performance is the way some of the inner wind voices are brought forward in the second movement, creating the impression of familiar music never heard before.
A very impressive recording.
Review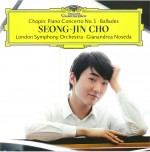 Seong-Jin Cho won the 17th International Chopin Piano Competition in 2015, the first Korean to do so. His latest recording Chopin – Piano Concerto No.1; Ballades; London Symphony Orchestra; Gianandrea Noseda (Deutsche Grammophon 4795941) shows how his focus on the singing qualities of Chopin's ideas won him that coveted prize. Cho's treatment of the principal melodic ideas in the opening movement is fluid and lyrical. Even his ornaments come across more as small eddies in a current than clusters of notes on a page. The second movement Romance is exquisite. Cho manages to retain a fragility about his playing, even through the slightly more assertive middle section. His technical display in the final movement is flawlessly clear.
The Ballades too, reveal Cho's fascination with the singing qualities of Chopin's ideas. Much of the Ballade No. 1 in G Minor Op.23 is remarkably understated, making for a starker contrast with the outburst of the middle section as well as the closing measures. The Ballade No.2 follows in a similar vein. The effectiveness of Cho's playing lies as much in his virtuosity as in his ability to fall into Chopin's moments of repose with a delicacy that transcends the pianissimo markings. He's a tall young man whose interviews reveal a shyness, a non-star-like simplicity that seems to suit him perfectly for this music.
Review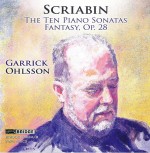 Garrick Ohlsson won the Chopin International Piano Competition more than 45 years ago and has, since then, been a recognized and respected interpreter of Chopin's music. The way in which Chopin expanded musical boundaries in his own time, is very much echoed in the evolution of Alexander Scriabin's piano music. So it seems a natural choice for Ohlsson to make a recording of Scriabin – The Ten Piano Sonatas; Fantasy Op.28 (Bridge 9468A/B).
The ten sonatas chart a dramatic course of evolution in both form and tonality with the Sonata No.5 in F-sharp Major Op.53 being the significant turning point. The 1907 work is the first to break free of individual movements, and Scriabin himself referred to it as a "large poem for piano." Perhaps more importantly, it moves fearlessly and convincingly in the direction of atonality. Ohlsson captures this new freedom from tonal centre and form with breathtaking virtuosic energy. The Sonata No.6 Op.62 is different again. While still a single movement, it's a work that Scriabin never played in public, despite his habit of premiering his own compositions. He is said to have feared the darkness inherent in the writing. Ohlsson explores this without reservation and reveals something of what may have perturbed the composer so much about his own creation. The 2-disc set is a welcome and revealing document that sheds valuable light on the development of a composer who saw himself as something of a mystic whose music might change the world.
Organ recordings appear infrequently in this column. It's of special interest therefore, that organist Erik Simmons' latest release, Hymnus – Music for Organ by Carson Cooman, Divine Art (dda 25147) demonstrates how new technology and contemporary music can be a winning formula for an older genre.
Producers of organ recordings have always wrestled with microphone placement in the quest for the right balance of acoustic space and the instrument's presence. The problem becomes more complex when organ pipes are located in different places throughout a building. Enter digital technology.
Anyone can now purchase a digitally sampled pipe organ, recorded as individual notes from an optimal acoustic location, and play that library of samples through a midi system from a compatible keyboard. That's exactly how this 1787 organ in Weissenau, Germany, appears in this recording. Every actual sound from the initial speaking attack of a pipe to its final decay and slight pitch drop is captured faithfully with every note. The authenticity of the performance location sounds so complete, it makes the likelihood of the recording being done in the comfort of his living room, even more astounding.
American composer Carson Cooman, in his mid-30s, has a body of works that numbers well over a thousand. Most are short pieces, three to six minutes, and designed as music for church services where preludes, postludes and interludes on that scale are best suited. His style is fairly traditional, and contemporary in the lightest sense, engaging only occasionally with atonality. The variety of his writing is impressive and he's capable of evoking greatly contrasting moods. This is especially effective as Erik Simmons uses the Weissenau organ to maximum colouristic effect, whether drawing a single flute rank or the full organ registration.
It's a terrific recording for three reasons: superb playing, fine composition and technological astonishment.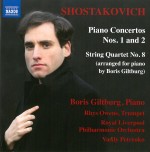 Pianist Boris Giltburg's discography expands yet again with Shostakovich – Piano Concertos; String Quartet No.8 (transcribed for piano) Royal Liverpool Philharmonic; Vasily Petrenko (Naxos 8.573666). As he often does, Giltburg writes his own notes for the recording, exploring the circumstances around the creation of these works by a composer admittedly close to his own heart. Giltburg relates the historical events with academic precision and links them to the subtlest aspects of Shostakovich's music with the knowing intimacy of a soulmate. His exceptional performances of the Piano Concertos No.1 in C Minor and No.2 in F Major reflect this deep understanding. In the case of the Concerto No.2, Giltburg brings ebullience to the music that captures the paternal joy of its dedication to his son Maxim on his birthday in 1957. The earlier concerto predates it by more than two decades and is more formal, but Giltburg finds the positive energy that Shostakovich was soon to have repressed under the attack of the Soviet party establishment.
The transcription for piano of the string quartet material is a fascinating and ambitious undertaking. Wanting to have a larger-scale Shostakovich work for solo piano available to him, Giltburg has transcribed the String Quartet in C Minor Op.110. Being as thorough as he is, he sought and received permission of the Shostakovich family for special access to resource materials for this project. The result is a new iteration of a work from a dark and discouraging period in the composer's life. In a curious way, Shostakovich never surrendered the skill of his craft to the hopelessness of his present condition. Giltburg has inexplicably and beautifully captured this moment of genius slipping into despair.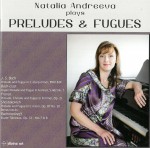 Another recording of comparisons is on the shelves this month in Natalia Andreeva plays Preludes and Fugues; Bach, Liszt, Franck and Shostakovich (Divine Art dda 25139). This Russian pianist has given considerable thought to her program and liner notes, and lays out a wonderful rationale for the enjoyment of a series of preludes and fugues that includes some form of shared material.
She begins, logically, with Bach, giving the Prelude and Fugue in C-sharp Minor BWV 849 a disciplined and sensitive reading. Proceeding through Liszt's transcription of Bach's Prelude and Fugue in A Minor S462 No.1 she arrives at Franck's Prelude, Chorale and Fugue in B Minor Op 21. By now it's clear that Andreeva is making serious connections. She concludes with Shostakovich's Prelude and Fugue in C Minor Op.87 No.20 leaving the impression that 350 years have not diminished the appeal of fugal form, especially when paired with the Prelude. Altogether a very worthwhile artistic and intellectual exercise.