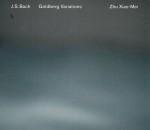 I can never resist an opportunity to experience the Bach
Goldberg Variations
. This 2016 recording,
Bach: Goldberg Variations – The New Recording (Accentus Music ACC30372)
by
Zhu Xiao Mei
, is a treasure that every Goldberg fan should own. Zhu made her first recording of the
Variations
20 years ago and has performed them hundreds of times in public. This is her second recording of the work.
The disc is unique. The liner contains no critique, no history or musicological analysis. Instead there is an interview with Zhu, responding to superb and probing questions whose answers are arrestingly profound. After all, born in the year of the Chinese revolution and serving five years in a work camp of Mao's Cultural Revolution, Zhu has something to say.
While she has an obvious grasp of the structure and pattern of the work, she speaks passionately about her unconventional approach to the variations and where they take the listener. Zhu makes two emphatic points about this journey. First, that the Variations ascend gradually from the opening Aria to their pinnacle in the 25th Variation. Here the languorous meditation in a minor key lasts two, even three times the duration of any of the other variations. Whatever Bach means to say, he says it at this point. Second, that the work is cyclical, beginning and ending with the Aria. On hearing it a second and final time we sense that we have understood something. The cycle is life and death. She quotes Laozi: "The Return is the Movement of Tao."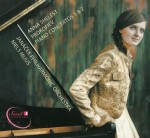 Prokofiev's first two piano concertos date from his early twenties while he was a student at the St. Petersburg Conservatory. Written just a year apart, they are strikingly dissimilar. On Prokofiev – Piano Concertos 1 & 2 Janáček Philharmonic Orchestra; Niels Muus (Sorel Classics SC CD 006) pianist Anna Shelest is profoundly convincing in her approach to these works. She understands the conventional forms used in the Concerto No.1 and delivers Prokofiev's memorable themes beautifully, especially the bold opening idea that returns at the close of the work. Concerto No.1 is very brief and is more of a single continuous work. The performance is satisfying and energetic, with the soloist and orchestra flawlessly together throughout.
The real surprise, however, comes with the Piano Concerto No.2 which is far more demanding in every respect. Shelest never shrinks from the challenges the composer sets out. The opening movement's massive cadenza is almost a work within a work, taking up most of the movement's time. It's brilliantly played with skillfully metered intensity. The Scherzo's wild, relentless unison playing is a brief but definite show stopper. Shelest's performance, especially in the Finale, reminds us how modern Prokofiev's language must have sounded to audiences a century ago, and how fresh it remains today.
Based in New York, Shelest continues to perform and add to her diverse discography making herself an artist whose career is very much worth following.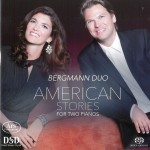 Elizabeth and Marcel Bergmann have performed as duo pianists for more than 20 years. Marcel's additional role as composer and arranger has given the pair an unusually large performance repertoire. All the material on American Stories for Two Pianos – Bergmann Duo (Ars Produktion ARS 38 188) is a tribute to American composers, both classical and jazz. The arrangements faithfully bring the essence of the works to the combined voices of two pianos. The Bergmanns possess all the skills we expect from a seasoned pair of duo pianists. They're perfectly together at the deepest musical level.
It's difficult to refer to any highlights on this disc because each track is superb. The arrangements are brilliant. Chick Corea's La Fiesta and Spain open the CD with high energy and a Latin pulse that flows naturally into Bernstein's Selections from West Side Story. America will positively launch you from your seat. One Hand, One Heart is movingly simple. Each selection is a gem.
The Bergmanns include two works by Pat Metheny, Eighteen and Hermitage. Here the challenge is to bring the electroacoustic and percussion components convincingly to the keyboards as well as to pianistically portray Metheny's music from a solo album.
Following the Latin American thread leads Marcel Bergmann to arrangements of Astor Piazzolla's Oblivion and Libertango, the latter being one of Piazzolla's best known works. The final track is an irresistibly syncopated romp titled Infancia by Egberto Gismonti.
These performances are exciting and electrifying.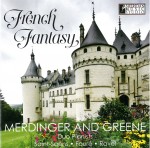 There's a good deal of serious stuff in the body of works for piano four hands. There's also a more light-hearted tradition that is written with children in mind. It's here that we find the popular works by Ravel, Saint-Saëns and Fauré that appear on French Fantasy – Saint-Saëns, Fauré, Ravel (Sheridan Music Studio 16129 9). Pianists Steven Greene and Susan Merdinger clearly enjoy playing this material. While set against a background of childlike simplicity, there are plenty of moments where the composers speak profoundly.
Carnival of the Animals is replete with colourful imagery. Merdinger and Greene have a great deal of fun with this, romping through Saint-Saëns' pages with energy and style. Their performance of Aquarium is noteworthy for its mystical fluidity while the Finale delivers the entertaining pulse of a high-stepping chorus line. Tortoises, Kangaroos and The Elephant also offer a generous dose of good keyboard humour – a reminder of why this set is so enduringly popular.
Fauré's Dolly Suite is a more introspective and tender work and the pianists explore this change of character effectively in Berceuse and Tendresse. Pas Espagnol and Kitty-Valse balance the suite with optimism and sparkle.
The disc concludes with Ravel's Mother Goose Suite. Ravel's harmonic language sets the suite apart from the other two works. It gives Merdinger and Greene the opportunity to approach the music with more attention to its subtleties. They are more seriously engaged in this music but never at the expense of its youthful focus.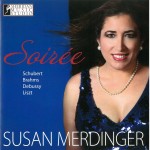 Susan Merdinger presents a broad and well-rounded solo program on Soirée – Schubert, Brahms, Debussy, Liszt (Sheridan Music Studio 13434 7). Beginning with the Schubert Sonata in B Major D.575 K.147, she quickly confirms the composer's predilection for song. She phrases the two principal ideas of the opening movement beautifully as if they had lyrics ready to be sung. The second movement offers a beautiful opening that first appears in vertical hymn-like form but subsequently melts into a series of fluid variations that Merdinger plays with great affection. The final two movements are very dance-like, each offering a brief middle section where Merdinger finds lied-like material that she emphasizes before reverting to the rhythmic drive that concludes them both.
Having both Brahms Rhapsodies on the same disc makes for interesting comparisons. Here too, Merdinger finds the two principal ideas in each work and carefully follows their course through Brahms' dense harmonies. The Rhapsody in B Minor Op.79 No.1's middle section is significantly shorter than the G Minor Op.79 No.2's and offers less time to linger with the material. But Merdinger counters this brevity with heightened intensity and sense of mystery.
Merdinger's performance of the Debussy Estampes is a credit to her stylistic versatility, moving convincingly from Schubert and Brahms into the impressionistic tonalities of Pagodes and Jardins sous la pluie. The closing tracks with Concert Paraphrase on Verdi's Rigoletto and the Hungarian Rhapsody No.12 reveal a pianist unbound, exercising the virtuosity and disciplined abandon required by Liszt.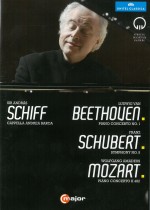 A wonderful compilation of performances from a Mozartwoche (Mozart Week) in Salzburg is what you'll find on this DVD from Unitel Classica. Beethoven; Schubert; Mozart – Sir Andreas Schiff; Cappella Andrea Barca (Cmajor 736508) contains the Beethoven Piano Concerto No.1 in C Major Op.15, Schubert Symphony No.5 in B-Flat Major D485 and Mozart Piano Concerto in E-flat Major K482.
Recorded at the Mozarteum, these performances are extraordinary and produced to the highest standards. Camera shots of performers including Schiff himself are creative yet unobtrusive. Audio is perfect. The hall is glorious and the playing, well, it's just divine.
Schiff's ensemble is rather small, numbering only 40. But these forces are historically appropriate for the music. The orchestra never sounds less than perfectly balanced and capable of musical gestures from the most intimate to the majestic. Schiff conducts, sometimes from the keyboard. His instrument is a Bechstein concert grand that responds in the most subtle ways to his pianissimo touch, yet naturally has the power to fill the hall.
He formed this group in 1999. They play and breathe with remarkable unity. The experience of this recording can only be surpassed by seeing them live – and what a privilege that would be. Until then keep the DVD player close at hand.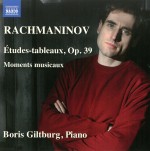 Boris Giltburg is a pianist who thinks pictorially. His recent disc Rachmaninov – Études-tableaux Op.39; Moments musicaux (Naxos 8.573469) contains his own liner notes in which he describes the images and scenes evoked by each of Rachmaninov's Études-tableaux. Giltburg creates the tableaux before us, the mists, the forests, everything he imagines. And he does it masterfully. He whimsically describes No.6 in A Minor Op.39 as Rachmaninov's dark retelling of Red Riding Hood and the Wolf. Despite being études, the technical challenges pose no difficulty and Giltburg seems eager to get beyond them in order to mine the emotional core of each piece.
The beauty of the Moments musicaux, Op.16 give Giltburg much more expressive latitude with tempi and he uses this to great advantage in the slower pieces No.1, No.3 and No.5 where a Barcarolle provides some respite before the Maestoso iteration of No.6 in C Major.
Giltburg is a superb technician and an emotional player who indulges in no excesses and so, remains credible. He's perfectly at home with the complexity of Rachmaninov's short form works.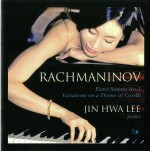 We often think of Rachmaninov as a big scale composer, recalling his piano concertos and their vast sweep of musical ideas. Rachmaninov – Piano Sonata No.1, Variations on a theme of Corelli (Blue Griffin Recording BGR327) reminds us that this is also true of his piano sonatas. Pianist Jin Hwa Lee begins the Piano Sonata No.1 with control and clarity while bracing for the enormous physical demands of the opening movement's second half. Her command of the music is impressive and her musicality eloquent. It shows in the slow second movement where her touch changes the opening colours most effectively.
Lee masters the extreme contrasts of the final movement, lingering in the reposes before moving out into the larger, wilder passages we associate with Rachmaninov's style. She understands this work as a whole, a complete unit, and holds it together as such.
The Variations on a Theme of Corelli again demonstrate how well Lee understands Rachmaninov.
Gone here is the deep Romanticism we associate with the concertos, and in its place a studied intellect moving creatively from one variation idea to the next. At Variation 15 Lee uses the nocturne-like interlude to regroup before launching into the last five and concluding with the Coda, ending on a few soft simple chords. She's a powerful and thoughtful player with an excellent debut recording.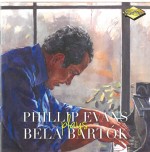 Pianist, scholar and critic Phillip Evans is an acknowledged authority on the piano music of Bartók. His series of Bartók CDs received high praise from the New York Times. On Phillip Evans plays Bartók (ARTEK 00642) he revisits the Sonata (1926), a work of Bartók's middle period. He describes it as a "new kind of piano virtuosity: huge chords, often rapidly repeated, large leaps and intricate embellishments." Evans, even in the slower second movement, uses Bartók's strong rhythms to propel the music. There's a relentlessness about this music and Evans never wavers in applying it.
The Six Romanian Folk Dances are smaller scale works. Evans plays them with sensitivity and imagination. The Stamping Dance is especially beautiful for the haunting way he manages to suspend the melody above the accompaniment. Improvisation on Hungarian Peasant Songs Op.20 is more adventurous in its treatment of the material. Evans plays the now familiar rhythmic chord clusters with requisite consistency but is always ready to yield to a melody, even if only a fragment.
Six Dances in Bulgarian Rhythm is, according to Evans, more than just a set of dances. Using various combinations of four, two and three, Bartók builds a series of increasingly intricate and engaging "dances" that offer unique rhythms to start but add intriguing melodic fragments and even some Gershwinesque harmonies as well.
In Piano Renaissance (jean-baptiste-mueller.com) Swiss pianist Jean-Baptiste Müller presents a program of his own compositions written in Baroque, Classical and Romantic styles. Müller is undeniably an excellent performer who has, nevertheless, chosen a less travelled path to advance his work. His record of festival and competition awards and public performances all point to his comprehensive grasp of the standard piano repertoire. His ability to present original ideas in such accurate historical modes is curiously impressive.
Fuge in d is a four-voice fugue in the style of Bach as is the Chorale "Trockne meine Tränen mir in Deinem Lichte," whose harmonic and voice part embellishments advance with each iteration of the chorale.
Müller's concert history shows numerous performances of works by Antonio Soler. This explains his familiarity with the style of the period and the remarkable kinship with his three Hommages à Soler that he performs on this disc.
Valse de la Confrérie du Sabre d'Or is Chopin throughout and his ability to write so convincingly in that voice is amazing.
Vika Variationen is, however, a fusion of the baroque and romantic and less tidy in its identification of style. But then, that's perhaps where we face our contemporary dilemma. We are predisposed to keep our historical musical styles separate, wince a bit at mixing them and wonder profoundly why anyone would want to write something original using them. It seems somehow inauthentic.
There's no denying the quality of these compositions or the beauty of their performance. This disc is sure to get your attention and evoke a lingering curiosity.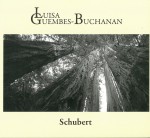 Pianist, musicologist and educator, Luisa Guembes-Buchanan has added a new recording to her discography that currently includes Beethoven sonatas and works by Schumann and E.T.A. Hoffmann. On Schubert (Del Aguila DA 55312) Guembes-Buchanan performs the Sonata in C Minor D.958 and the Impromptu in A-Flat Major Op.90 No.4.
The Sonata is Schubert's third last, written in his final year. It's a substantial work that takes a half hour to perform. Guembes-Buchanan launches into the opening C minor chord then commits to a steady and aggressive pace until the second theme emerges in a more tender and relaxed mood. She opens the second movement with a profoundly respectful statement of the opening idea, then navigates Schubert's numerous key changes through to the final, somewhat hesitant reference to the opening bars.
The fourth movement is busy and demands clear articulation for which Guembes-Buchanan pedals sparingly.
The Impromptu in A-Flat Major Op.90 No.4 is a favourite and gratifying to hear played this well. The tempo is fast, making the many descending arpeggios very impressive. Guembes-Buchanan is an inspired Schubert interpreter.