Steven Osborne
has no fear of intimacy. In his latest recording,
Franz Schubert (Hyperion CDA68107)
Osborne plays the
Impromptus D935
and
Three
Piano Pieces D946
, as if he were the composer. He adopts a modest posture, lingers in the shadows of the music and emerges only when Schubert coaxes him out. He is never rushed. Assured and playing at a relaxed pace, he maintains a strong sense of forward motion especially in the slower sections. He also has a sense for melodic lines and gives them wonderful clarity over Schubert's accompanying harmonic pulse. Osborne makes the well-known
Impromptus D935
seem new again. He seems to understand their true scale and never overplays them.
He uses the same approach to the Three Piano Pieces D946, where No.2 in E-flat Major is substantially longer than the others and requires more attention to thematic development. He begins it softly and finishes it even more so. Magical. The Hüttenbrenner Variations D576 are playful and entertaining. Built on a short and simple idea, Schubert's 14 iterations find an affectionate and capable performer in this pianist. The Steinway used in this recording is beautifully voiced and has the perfect colours for this repertoire.
Concert note: Osborne performs the Schubert Impromptus Nos.1 & 4 D935 in Toronto on Tuesday, March 1 as part of Music Toronto's Piano Series, in the St. Lawrence Centre for the Arts.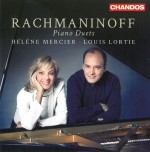 Hélène Mercier and Louis Lortie are longtime piano partners who've played and recorded together since the 1980s. Whether playing four hands or two pianos, they always impress with a profoundly unified approach to the music. One simply can't imagine a significant difference of interpretive opinion between them. Their newest CD, Rachmaninoff Piano Duets (Chandos CHAN 10882) is another example of this mature musical relationship where one cannot distinguish either of them from the other. Their keyboard techniques are identically matched and their sensibilities deeply shared.
Here the wide sweeps of Rachmaninoff's musical imagination find their voice on the keyboards of two Fazioli grand pianos. The vocabulary is unmistakable and even surprisingly whole quotes from works like the Piano Concerto No.3 appear in the Suite No.2 Op.17 for Two Pianos. The Fantaisie (Tableaux), Op.5 opens the recording in a very dramatic way with Mercier and Lortie pulling the listener right to the edge of the seat with some very edgy playing.
This music is written to be big. While the first two repertoire items have plenty of familiar orchestral allusions, the real showstopper is Rachmaninoff's transcription for two pianos of his Symphonic Dances Op.45. The versatility required here is remarkable. The first movement contains a musically threadbare middle section where the pianists obviously enjoy the contrast to the rest of the piece. The third movement is a long slow build to a truly blazing finish. On any decent sound system, this recording makes you tingle with the pianists' energy. You can only imagine the effect Mercier and Lortie have in live performance.
We are given to appropriate wonder when we encounter child prodigies whose keyboard skills and musical maturity seem demonstrably beyond their years. Rarer still are those musicians who have lived into old age with their gift still largely undiminished by the decades. Their experience and insights give them a freedom not entirely available to the younger. I recall the documentary film of Vladimir Horowitz making his long-awaited return to Moscow to perform at the conservatory, watching him hunched over the piano and gliding through a Chopin valse as if he were only 20.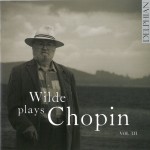 Another such elder pianist is David Wilde, who at age 80 is still performing, recording and teaching, as he has done all his life. On listening to Wilde plays Chopin Vol. III (Delphian DCD34159) one is immediately struck by the dexterity and power of this pianist. He is definitely in command, not only of the music's demands but also of its content. It's as if Chopin has surrendered licence to Wilde to reshape his phrases, alter his tempi and dynamics to reflect who this pianistic sage is.
Wilde's performance of the Valse in D flat Major, Op.64 No.1 "Minute Waltz" is amazing for its speed. The Scherzo No.2 in B-flat Minor, Op.31 is a monumental and powerful statement as is the "Military" Polonaise. All through this CD one is struck by the enormous expressive freedom that Wilde has at his disposal. It's an inspiring recording.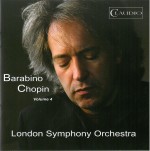 Listening to Adolfo Barabino – Chopin Volume 4; London Symphony Orchestra; Lee Reynolds (Claudio CR 6021-2) it's tempting to believe that this pianist has found that secret, internal place from which only Chopin can come. It's a place of great fragility. Barabino's own liner notes speak of delicacy, elegance, nuances and slender sound. His performance of the Berceuse Op.57 gives the impression that some of the notes are actually too shy to be played. The six Mazurkas are far more meditative than they are dancelike. Even with the London Symphony Orchestra his performance of the Piano Concerto No.2 is never very large and always seems ready to become reclusive at the next pianissimo. While the second movement is particularly beautiful for Barabino's treatment of the main theme, the outer movements sparkle more like an aurora than fireworks. It's altogether a remarkable interpretation. The Steinway he plays surrenders the loveliest of colours in the many passages of light touch.
This is his fourth volume in what is to be a complete recording of all of Chopin's piano works. It's a set worth collecting.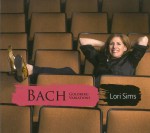 Another Bach Goldberg Variations BWV 988 (TwoPianists Records TP1039244) is competing for attention and its performance by Lori Sims offers good reasons for making this a valued addition to those who collect Goldbergs.
Most importantly, Sims understands the architecture of the work and how Bach proceeds through his canons with ever-widening intervals. She addresses this and other structural complexities in her brief but very well-written liner notes. Also, Sims has committed to observing all the repeats and using the baroque practice of more elaborate ornamentation in them.
Finally, she has made this recording in live performance with an audience that, after a few initial coughs, quickly settles into an astonishingly silent awe at the feat unfolding before them, all 80 minutes of it. This changes the pace of things, because the performer needs to keep the harmonic core of the variations alive in the listener's ear as the idea evolves through its often challenging forms.
Sims does a terrific job at holding Bach's many threads together while still applying her own nuances to phrases, individualizing her ornaments, playing with a light clear touch and avoiding the sustain pedal altogether. The better you know the Goldberg Variations, the more you'll appreciate this live performance. It's an exciting document.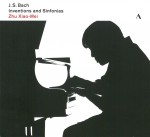 Another pianist who has recorded the Goldberg Variations live, albeit as a video, is Chinese-born Zhu Xiao Mei. She has also recorded Bach's The Art of Fugue, but most recently the J. S. Bach Inventions and Sinfonias (Accentus Music ACC30350).
It's familiar music to most keyboard players. The 15 Inventions and as many Sinfonias have been, as Bach intended, a staple in the keyboard study repertoire for centuries. Zhu is a performer, teacher and frequent jurist at major piano competitions. She offers a passionate argument in her liner notes for the higher regard that these pieces deserve. While dealing mostly with just two and three polyphonic voices, she nevertheless believes they contain an "extraordinary density of music."
Zhu's playing is sensitive, articulate and precise. It's obvious she takes this music very seriously. She argues that Bach wanted players to learn how to play polyphonically and so, be able to highlight the dialogues between voices. She also believes Bach wanted young players to experiment with different approaches by varying tempos and phrasings. Her interpretations reflect this as they move gently and fluidly through what many students deliver as merely dutiful finger exercises. It's a very satisfying performance and convincingly raises this collection of Bach keyboard works to a significantly higher level.
This recording is a timely reminder about the reverence we need to nurture around the act of making music, even with the simplest of works.
Review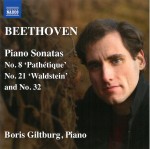 Little more than a year into his exclusive contract with Naxos, Boris Giltburg has recorded his second CD, Beethoven Piano Sonatas No.8 "Pathétique," No.21 "Waldstein" and No.32 (Naxos 8.573400). Whether he aspires to recording all 32 sonatas remains to be seen. Still, his first Beethoven disc gives us a good sampling of the early, middle and late periods and of Giltburg's understanding of how Beethoven's expression in this form evolved.
His overall approach is one of rather intense carefulness. Giltburg is patient. Never rushing unnecessarily, he takes his time, pausing and hesitating to highlight the intimacy of the music. Speed and power are, however, no obstacle to him and he shies away from nothing.
The opening of the Pathétique is quite deliberative and in considerable contrast to the speed of the final movement. He begins the Waldstein with barely contained energy that spills out quickly over the rhythmic pulse of the left hand. The second movement seems wonderfully expanded in time as if he wants us to find something new in the open spaces between the notes. Giltburg then crafts some lovely sounds around the final movement's bell-like main idea.
The Sonata No.32 Op.111 is Beethoven in completely new territory. Giltburg delights in the moments that appear unstructured and so modern for the period but he also plunges with feverish delight into the passages with fugal elements that Beethoven wrote for effective contrast. The jewel in this crown is unquestionably Giltburg's performance of the final movement. The long opening arietta is memorably tender and the movement's close, even more so.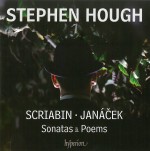 An enlightening quote by the performer opens the notes of Scriabin – Janáček, Sonatas & Poems (Hyperion CDA67895). In it Stephen Hough explains his reason for alternating these two eccentric Slavic composers throughout the program of the CD. Describing Scriabin's music as horizontal and Janáček's as vertical, and further explaining how the two are essentially dissimilar, we have the rationale for the contrasting placement of all the music on this recording. Hough's argument is that too much of either detracts from itself. But he also calls their voices contrasting and compelling, and this view is borne out in his playing.
Scriabin's two sonatas, Nos.4 and 5, as well as the two Poèmes have that distinctive French impressionistic drift that is as seductive as it is hypnotic. Hough understands this form well and blends his lines with superb fluidness.
His approach to Janáček is, by necessity, very different. While somewhat programmatic the music is a demanding mix of romanticism, occasional moments of minimalism and plenty of modern form. Hough reflects the imagery beautifully in On the overgrown path – Book I. He captures the darkness of the Piano Sonata 1.X.1905, From the street, recalling the grim political events it marked as well as the composer's deep personal struggles.
This recording is a mature and challenging project and is extraordinarily well done.
A new recording by young Italian pianist Alessio Bax, Scriabin, Mussorgsky (Signum Classics SIGCD426) brings yet another Scriabin piano sonata to the marketplace. The Sonata No.3 Op.23 is a considerably earlier work than its successor, with 16 years between them. The flowing impressionism of the 4th and 5th sonatas is only moderately evident in the slow movement of the 3rd sonata while the rest of the work is fairly classical in structure. Alessio Bax plays this work with a great deal of affection and his opening liner notes explain his fondness for the piece.
Bax is young, powerful and a capable interpreter with a natural instinct for drawing out the beauty of a melodic line. This is obvious in the Etude in C sharp Minor Op.2 No.1. The Prelude for the left hand alone, Op.9 No.1 is as beautiful as it is amazing to contemplate. One should like to see it in performance.
If we needed to be more impressed, we might reserve judgement until hearing Bax's performance of Mussorgsky's Pictures at an Exhibition, but the decision would be a foregone conclusion. Each of these little vignettes is superbly played. Ballet of the Unhatched Chicks and The Market Place sparkle with energy and the Great Gate of Kiev towers over the Pictures in pianistic grandeur.
Contemporary music has long used unconventional sound sources, among them the "prepared" piano. This usually involves some physical change in the mechanism or tuning of the instrument. Digital technology has, however, opened new opportunities to take this approach much further. The possibilities are limited only by imagination.
OnBeyond 12 – Reinventing the Piano (MicroFest Records MF3) pianist Aron Kallay performs works commissioned from eight American composers. They were given two ground rules to follow in composing their works. First, retune the 88-note keyboard to represent just a single octave. Second, remap the keyboard so that high/low or left/right can be interchangeable and pitches can be in any order.
What has emerged is a body of works playable on a digitally conceived model that uses software to reconfigure a traditional digital keyboard to meet these requirements. The eight composers are mostly professional musicians and academics with a strong inclination for technology in their music writing.
It's surprising to hear how much of this music has a strong tonal centre and uses familiar rhythmic patterns to drive it forward. Also intriguing is the way the ear quickly adjusts to the very small differences of pitch between adjacent notes. It's as if the brain resets and quickly begins to make melodic and harmonic sense out of this unconventional music model. This is a truly fascinating disc and worth hearing for both pleasure and debate.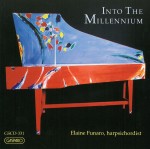 American harpsichordist Elaine Funaro has made a career of championing new music for the harpsichord. In 1996 she recorded Into The Millennium – The Harpsichord in the 20th Century (Gasparo GSCD-331). Twenty years later the recording is as exciting as it was when first committed to DAT in the beautiful and cavernous Duke University Chapel (North Carolina).
Two tracks deserve special mention. The Postlude of Dan Locklair's dance suite The Breakers Pound will lift you right out of your seat. The raw energy coming from such a traditionally non-dynamic instrument is indescribable. It has the feel of Khachaturian's Sabre Dance. Also, Tom Harris' Jubilate Deo is extraordinary for the way it builds tension with increasing stacks of harmonies. It's wonderful to see this older recording reissued.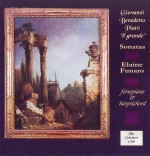 Also among Elaine Funaro's recently reissued recordings is Giovanni Benedetto Platti "il grande" Sonatas for Clavicembalo (Wildboar WLBR 9901). Here, the repertoire is material from the early 18th century. Funaro plays two modern instruments, a harpsichord and a fortepiano, copies of originals from that period. The fortepiano in particular, produces an unusual and pleasant timbre not often heard in recordings.
Funaro has audio and video samples of her work at funaroharpsichord.com.