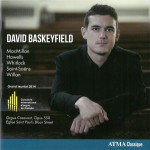 The Canadian International Organ Competition is a fairly new horse race as these things go. Launched in 2008 it has brought considerable visibility and prestige to the performance discipline. The 2014 Grand Laureate is celebrated on David Baskeyfield – Concours international d'orgue du Canada (ATMA Classique ACD2 2719).
Familiar composers line the program notes: Willan, MacMillan, Howells and Vierne. But organists know that they always share the spotlight with the actual instrument they play as much as the music itself. In this case, it's one of Canada's largest organs, the Casavant Opus 550 at St. Paul's Bloor Street, Toronto. Originally built in 1914 and restored in 1955, it has had many enhancements over the years. It's a versatile instrument with an enormous orchestral palette.
Baskeyfield is an impressive performer and notable for his skillful registrations. His choice of tonal colours is masterful. He is English-trained and completely at home with Howells, Hollins and Willan. He also does a terrific job with the works of the French school, Vierne's Naïades, Saint-Saëns' Prélude et Fugue en si majeur. But the disc's real gem is the Willan Introduction, Passacaglia and Fugue. The disc is a fabulous recording and an important document for this historic instrument now more than a century old.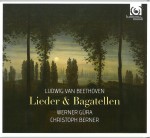 Another fortepiano recording has recently worked its way to the shelves and will be a treasure to many. Christoph Berner plays an 1847 Streicher on Ludwig van Beethoven Lieder & Bagatellen (harmonia mundi HMC 902217). The instrument is in remarkable condition. It's clear, wonderfully tuned and voiced. Its tone is consistent throughout and surprisingly resonant in the upper register. Each of the six Bagatelles Op.126 is a joy to hear on this fortepiano. Berner's playing is clean and lightly pedalled. The best feature of this performance is that he understands what these little pieces are and so, doesn't fall prey to overthinking them.
As terrific as the Bagatelles are, the other half of the disc is the real surprise. Tenor Werner Güra, whose clear, light voice is well-suited to this repertoire, sings a number of Beethoven songs and one short cycle in a performance that is heart-stopping. He's a very dramatic singer with great control over straight tone and vibrato. He connects directly to the poets' emotions and shapes phrasing and dynamics to powerful effect.
Two tracks in particular are profoundly moving: Zärtliche Liebe WoO 123 and the cycle An die ferne Geliebte Op.98. The combination of Güra's interpretation accompanied by this extraordinary instrument make this disc a valuable find for those who enjoy authentic performance practice.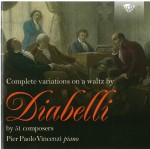 Pianist Pier Paolo Vincenzi has undertaken an ambitious project with his recording of the Complete variations on a Waltz by Diabelli by 51 composers (Brilliant Classics 2CD 94836) on which he also performs the Beethoven 33 Variations on a Waltz by Diabelli Op.120. The compilation of the works by the 51 composers who responded to Diabelli's 1819 variation challenge is rich for its variety. Among the contributors are familiar composers like Hummel, Czerny, Liszt and Schubert. The others are of lesser historical standing and include a few dabbling aristocrats. Vincenzi, however, treats each variation as though it were, in fact, a masterpiece.
Whether he's ripping through Liszt's arpeggiated hurricane or pecking through Baron von Lannoy's 45-second effort, Vincenzi creates a fascinating snapshot of 51 early 19th-century psycho-musical profiles. But when he performs the Beethoven variations, he changes his interpretive posture significantly. No longer dealing with 51 different iterations, he now probes the depths of a single creative mind. What Beethoven can say uniquely in 33 differently ways is obvious on the page but only the performer can really convey that. He never loses sight of Diabelli's thematic kernel. Whether dealing with Beethoven's fugal architecture or delighting in his Mozart impersonation, he keeps the central idea from being lost in the Byzantine workings of Beethoven's mind.
The producer of this recording has chosen to record the piano dry with absolutely no acoustic space around the instrument at all. The ear does adjust to this and the Steinway D, despite its size, quickly becomes a very intimate instrument.
It's unusual to find the complete piano works of Manuel de Falla recorded on a single disc. The feature of this disc is the ability to follow the evolution of the composer's work chronologically from 1896 to 1935. A few of these works had remained unknown or unpublished until much later in the twentieth century.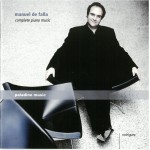 Pianist Juan Carlos Rodriguez captures de Falla's Spanish view of the world around him on Manuel de Falla – Complete Piano Music (Paladino Music pmr 0062). He reveals the strong core of western classical discipline on which uniquely Spanish sensibilities rest. We hear this rhythmically and in small characteristic turns of phrase. Rodriguez also plays de Falla's homages to Paul Dukas and Claude Debussy with the subtle hint of French impressionism the composer intended.
Rodriguez approaches the Cuatro Piezas Españolas as the most culturally inward looking to reveal what may be the most Spanish of de Falla's piano works.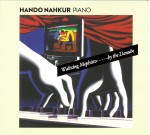 Franz Liszt's Mephisto Waltz has another reincarnation on Waltzing Mephisto...by the Danube (Estonian Record Productions ERP 8115) with pianist Hando Nahkur. The title track is brilliantly played with remarkable clarity through all the maniacal passages. The approach is disciplined and calculated but not lacking in any of the incendiary energy needed for this piece.
The disc also includes Schumann's Kinderszenen, Op.15 from which the dangerously familiar Träumerei is played with gratifying freshness. Nahkur also manages the same feat with the Schumann/Liszt Widmung S.566 where he keeps the apogees of the main idea suspended with satisfying length before the descent to their phrase endings.
Arabesques on An der schönen blauen Donau is a 1900 paraphrase by Adolf Schulz-Evler of the well-known Strauss waltz. It's rarely heard and is very Lisztian even to the point of sounding a bit like La Campanella for a few measures. It demands a lot from the pianist but Nahkur plays it with impressive ease.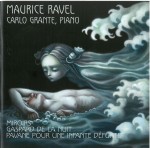 Occasionally composers will write music so perfectly that all the colour, dynamics and nuances seem to be built in. While this doesn't make it easier to perform it does create the pitfall of over interpretation. Wise performers recognize this and learn to surf the wave. Carlo Grante does this beautifully in Ravel: Mirroirs; Pavane pour une infante défunte; Gaspard de la nuit (Music & Arts CD-1289).
In the Miroirs set, La vallée des cloches is especially lovely for Grante's superb touch and tonal manipulation. The Bösendorfer Imperial responds with bell-like sonority.
Curious, however, is Grante's opening of the Pavane pour une infant défunte. He observes the staccato in the lower treble very sharply as marked in the piano score. This is unusual and quite arresting because some publishers show sustained pedal through these opening bars, to more closely approximate Ravel's actual orchestration where these short eighths are played pizzicato in the strings while horns and bassoon hold longer supporting phrases. What's really interesting is that Ravel's own 1922 piano roll recording of this does neither. Ravel plays it slightly sustained (pedalled) and not nearly as short as Grante. Once past the opening idea, however, Grante moves into the sustained legato that makes this piece flow so beautifully to its ending.
The three piano poems that comprise Gaspard de la nuit are superb. Ondine moves liquidly as it should, Le Gibet rings under the same bell-like touch of the early La vallée des cloches and Scarbo is suitably menacing.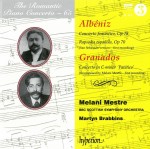 Reconstructions from fragments appeal to our curiosity by suggesting to us what might have been. It's what drives people like Melani Mestre to record the recent addition to Hyperion's Romantic Piano Concerto series Albéniz; Granados – Piano Concertos (CDA67918). A pianist, composer, conductor and academic, he has constructed a concerto from two fragments of a Piano Concerto in C Minor 'Patético' by Granados. Speculatively dated around 1910, there is no evidence to indicate whether this was intended as a single-movement work or something of larger scale but Mestre believes the latter.
For the middle and final movements he has used two other Granados' solo piano works and adapted them for piano and orchestra. These are much more colourfully orchestrated than the first movement with plenty of percussion effects to highlight their Spanish and dance-like feel. Mestre is a skilled orchestrator and has plenty of fun playing his own adaptations. Some will argue about the validity of such efforts, but those who undertake them skillfully produce intriguing works that fuel many entertaining debates.
The Albeniz Concierto fantástico, Op.78 is a mid-career work and is decidedly un-Spanish in its feel. Still, it's truly beautiful and not often performed or recorded. Admirers generally cite its middle movement as the gem and rightly so. The Reverie et Scherzo opens with a lovely piano line against a backdrop of broad orchestral harmonies. The final movement's closing pages have some enchanting waltz-like episodes where Mestre's hesitations are seductively placed to enhance the dance-like feel.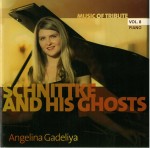 Pianist Angelina Gadeliya cites a profound spiritual affinity for the music of Alfred Schnittke. Born in Soviet Georgia and trained in Ukraine, she now lives in the U.S. Her enduring commitment to Schnittke's music was deepened by an encounter with the composer's wife and biographer a year after his death in 1998. Schnittke and his Ghosts (Labor Records Lab 7093) is an expression of that experience. Gadeliya plays two of his works and adds others to reflect the impact on Schnittke of influences including his time Vienna where he received much of his formative musical education – hence, his "Ghosts."
She gives a very personal performance of the Sonata No.2, a darker work of Schnittke's later years. The middle movement is unusually tonal with numerous harmonically rich clusters and the final movement contains an ad libitum that calls for tumultuous improvisation. Variations on a Chord uses contemporary devices for sustained notes, sharp attacks and sympathetically vibrating strings. Gadeliya is perfectly adept at all these techniques and captures the harsh yet playful duality of Schnittke's six variations.
The Mozart Adagio in B Minor K540 may seem an odd inclusion until one recalls the numerous cadenzas Schnittke wrote for Mozart piano concertos and his orchestral tribute Moz-Art à la Haydn.
The Shostakovich Variations on a theme by Glinka and Scriabin's Sonata No.4 connect us to Schnittke's Russian roots. But in an odd way the far earlier work by Scriabin (1903) takes us much closer to the mysticism we experience in Schnittke's music. Gadeliya has programmed a fascinating, stimulating recording and performed it masterfully.
With 25,000 Syrian refugees coming to Canada, the Middle East is never very far from the daily headlines and our attention. The cultures of that region have, in their encounter with ours, produced many fascinating cross fertilizations of artistic expression. Each offers a portal for better understanding of a region that often seems so distant in many ways.