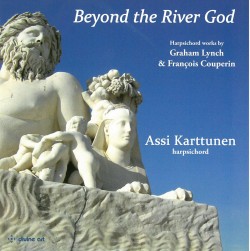 Beyond the River God
Assi Karttunen
Divine Art dds 25120
(divineartrecords.com)
This intriguing program of music for solo harpsichord makes unexpected but successful partners of Baroque France's great François Couperin, who died in 1733, and the gifted English composer Graham Lynch, who is still very much alive. Couperin's music here, a prélude from his L'Art de toucher le claveçin and four other pieces from various of his Ordres, makes up just over one-third of the substantial track list, and Finnish harpsichordist Assi Karttunen's supple interpretation of L'Exquise from Ordre XXVII is particularly beautiful.
That said, where Karttunen really shines is in Lynch's music for her instrument, which reflects both a panoply of stylistic influences and a well-nuanced understanding of how to compose for the harpsichord. Karttunen's playing is deftly mercurial in the second Rondeau of the five-movement Beyond the River God, and she's introspective yet always welcoming in the many meditative movements of this and other works. A particular small delight is the short, stand-alone Ay!, which to me sounds a little like what Edgar Allen Poe might have improvised over a French ground bass. The four movements of Lynch's Petenera make perhaps the best connection in spirit to the unmeasured préludes of Couperin's time; you can almost see Couperin listening curiously from the doorframe. The recorded sound is beautiful, and Karttunen's notes offer much food for thought. The combining of old and new music can be tricky alchemy, but this experiment is a happy success.